Main Dashboard - top
The dashboard gives you an overall overview of your credit repair business, including your all Pending letters, Customers, Invoices, Overdue invoices and Employees/Users.
Also, on the dashboard you can see all of your disputed items, stats in numerical and chart format as well as financial stats in regards to invoices, paid or not.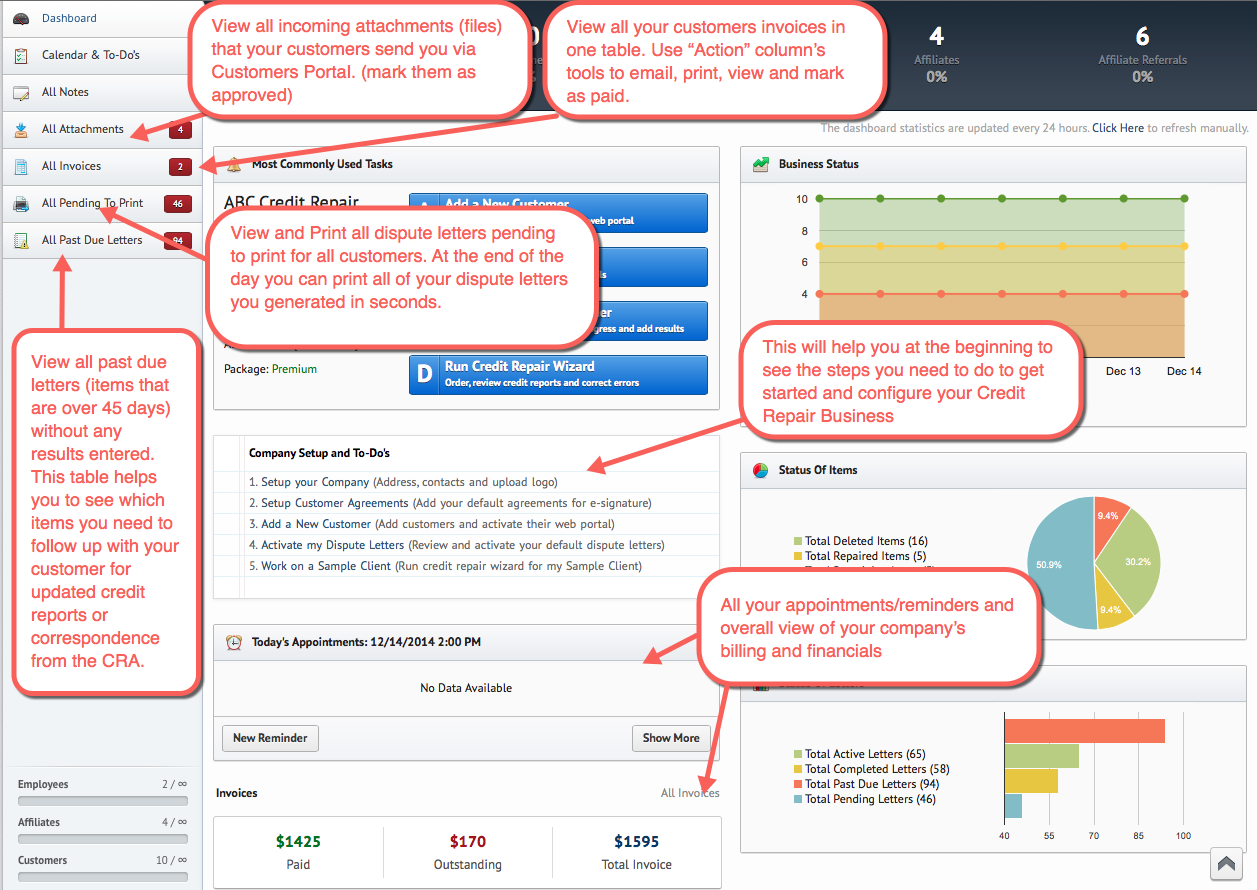 ---
Customers - top

This is where you add customers, add negative items from a credit report, create dispute letters, print dispute letters, enter dispute results, see the customers dashboard, generate invoices, manage attachments and much more,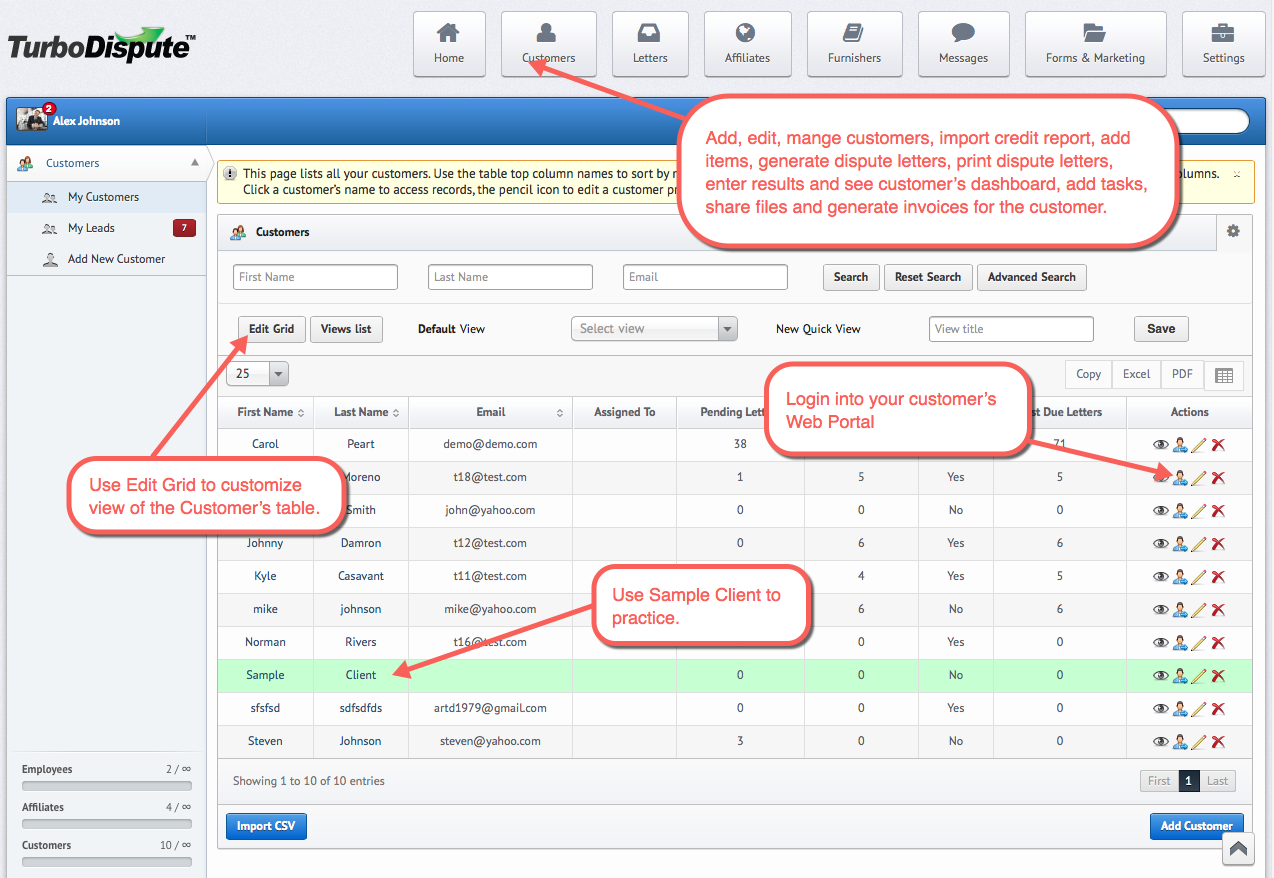 Notice: if

---
Add New Customers - top



Notice: if
---
View Customer Details, Activity and Agreements - top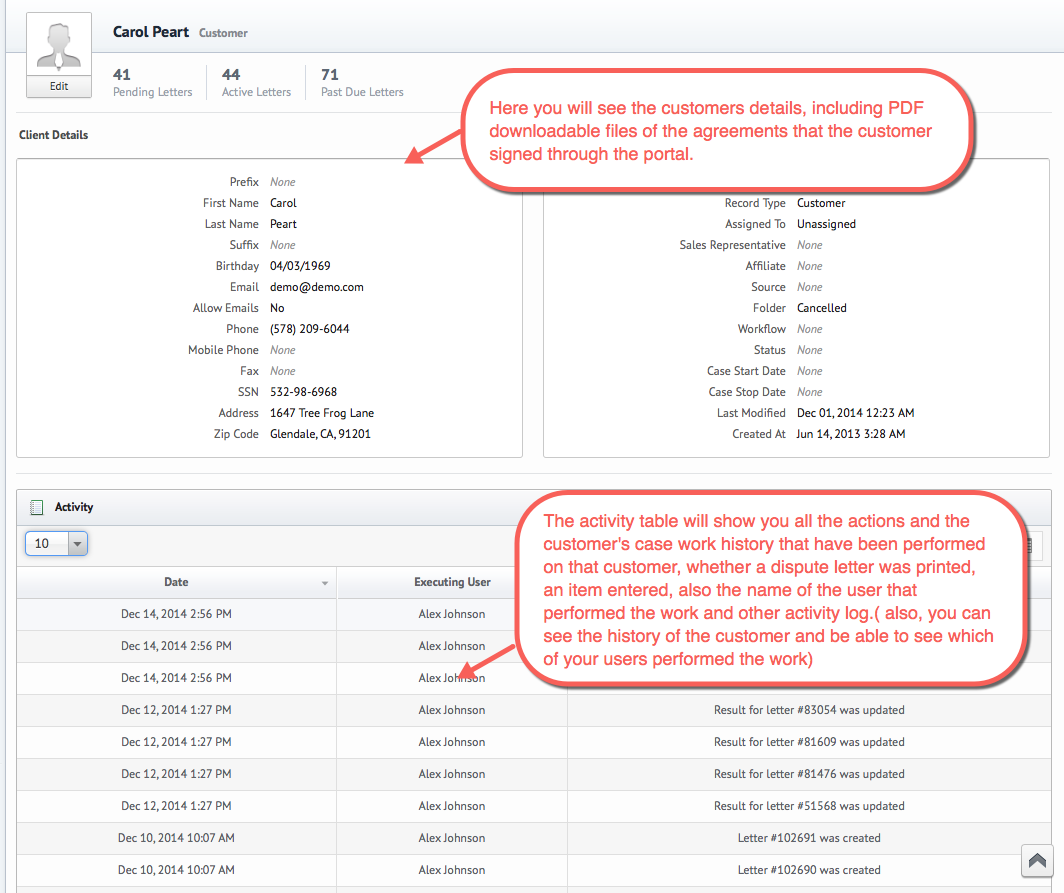 Notice: if
---
Import Credit Reports top

The Most Robust & The Fastest Business Solution For The Credit Repair Industry.
With TurboDispute Credit Repair Software you can easily import your clients's credit reports in seconds and the system will import contact information, address, credit scores, credit inquiries and itemize all the derogatory items, one-by-one, saving you hundreds of hours of data entry every month, minimizing human error.
Your clients can sign up for credit monitoring from Credit Check Total service for $1 trial with instant reports and scores. (Privacy Guard, Free Credit Repaort.com, Free Score and Identity Secure coming soon).
Once they sign up they can provide you with their username and password and you will be able to Import your clients' credit reports with one click including derogatory items, credit inquiries and credit scores. We have no affiliation to any credit monitoring services and You (or your clients) will order the reports on your own.

Step 1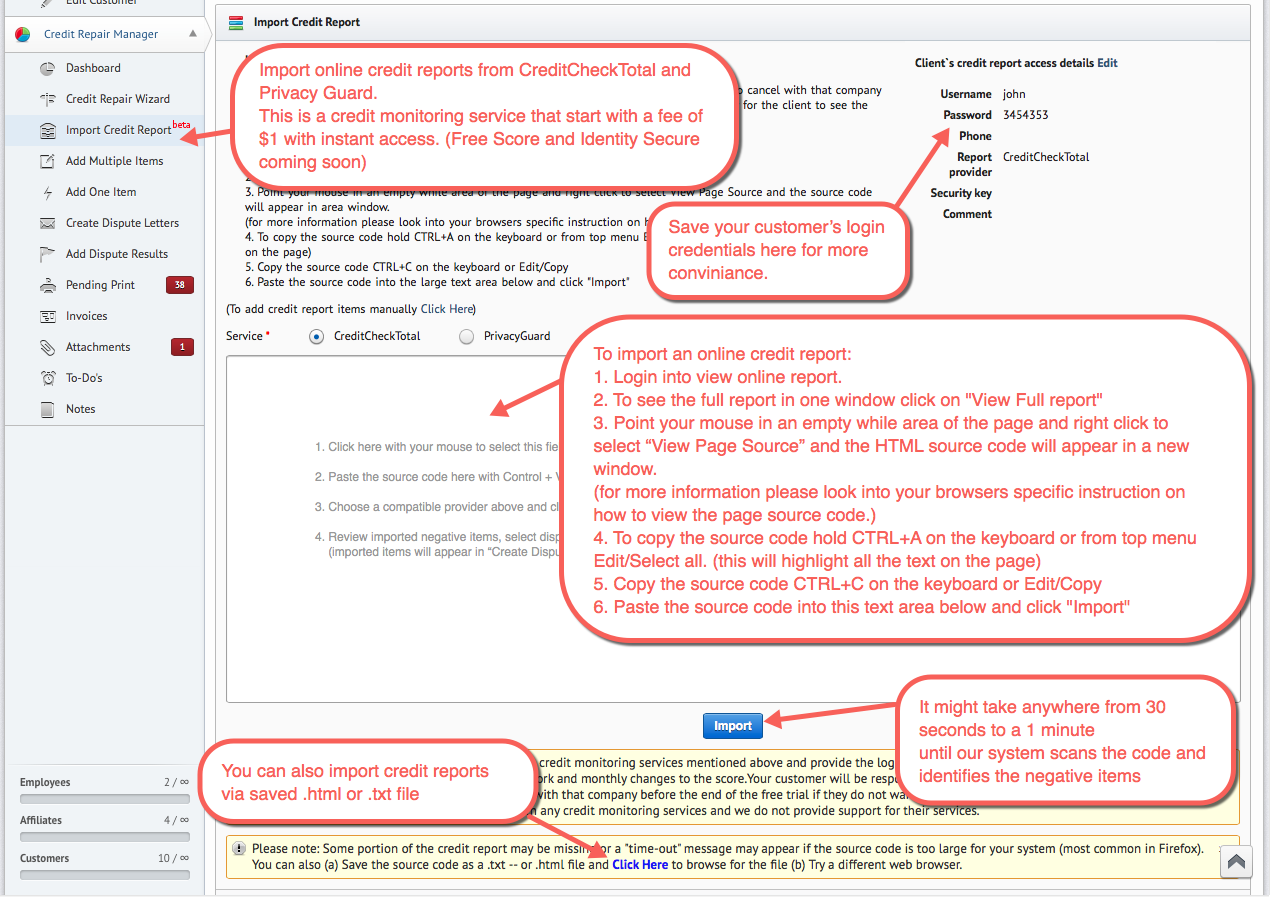 Step 2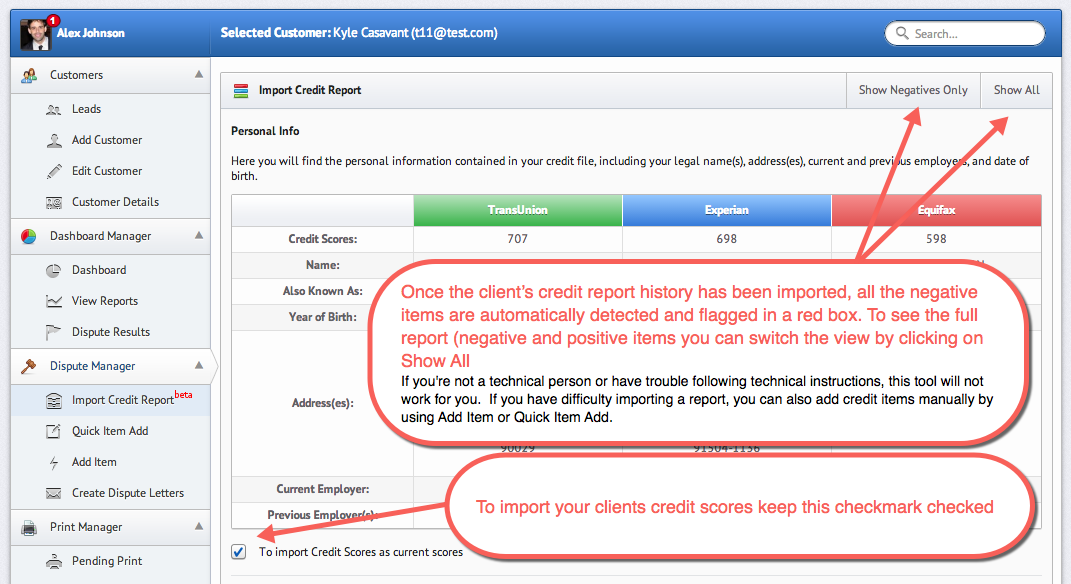 Step 3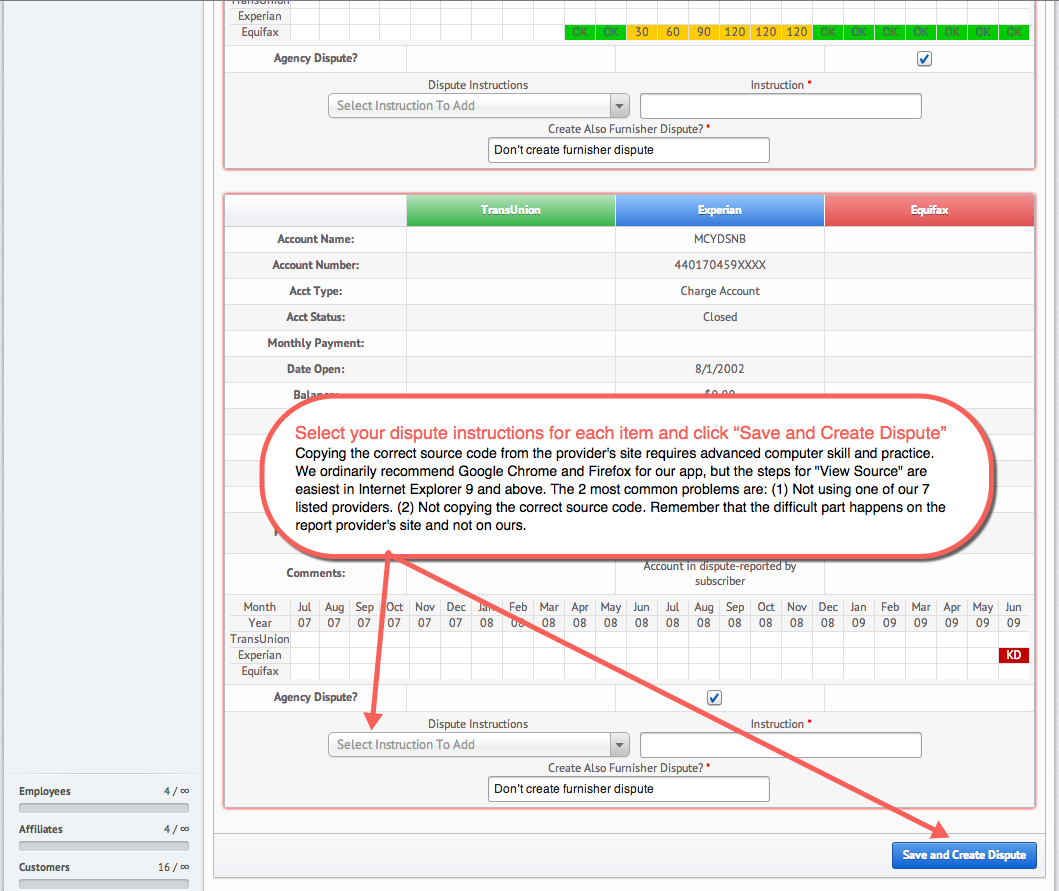 Import CreditUpdates report or synchronize dispute results (works with CreditUpdates only)- top
You can easily import your clients's credit reports in seconds and the turboDispute " Credit Reports" section without using a HTML source code. In addition you can Synchronize Dispute Results With One Click if your cliant has an ongoing membership and provide you a shared HTMl report every month. Waiting for your clients to send you their credit bureau correspondence is thing of a past. With TurboDispute's one click result synchronization you will be able in seconds synchronize from you clients updates online credit report and our software will mark the results as deleted repaired or verified in seconds!

To which email address to share the reports


Instructions in your client's web portal


Step 1 (you or your client login into CreditUpdates site)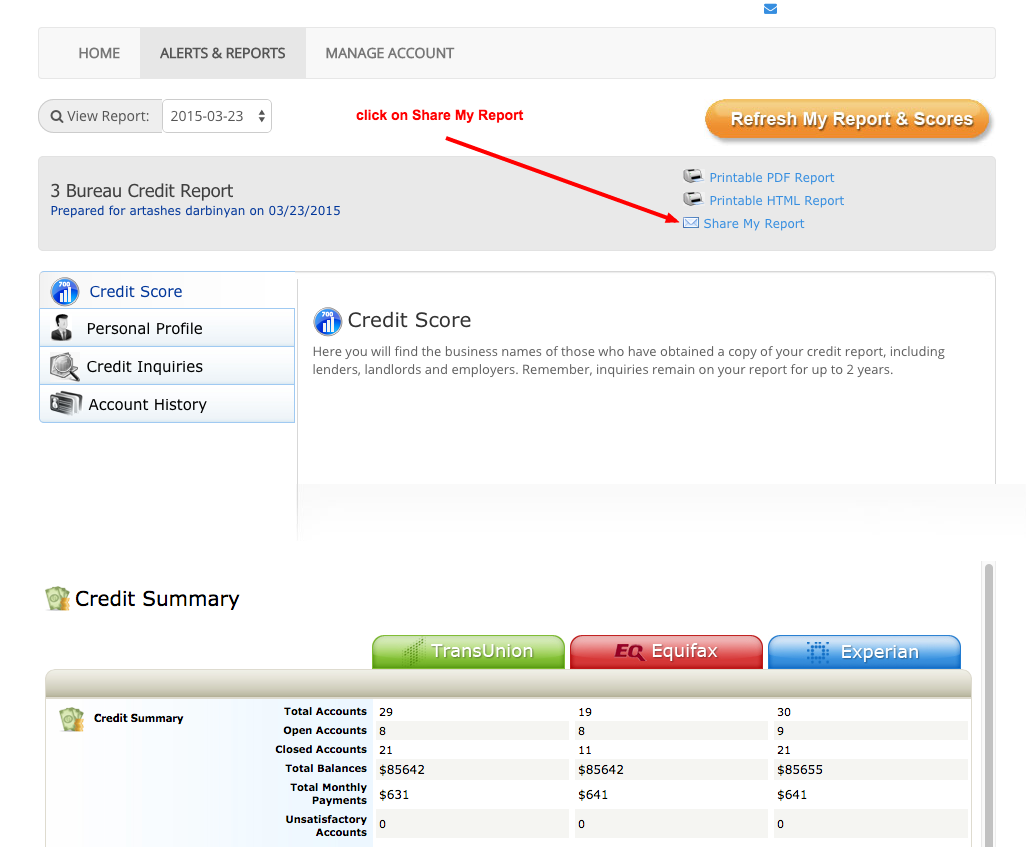 Step 2 (Share an HTML report to the email address shown on top of your client's dashboard)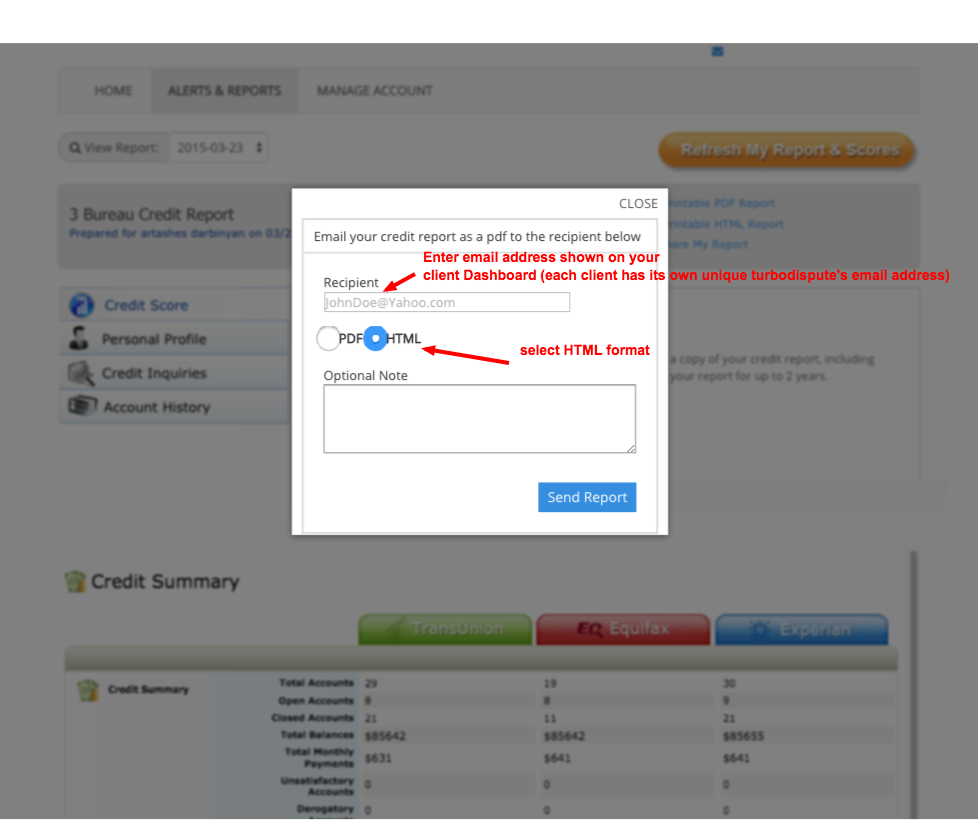 Step 3 (Shared credit reports will show up here, this table is updated every 1 hour)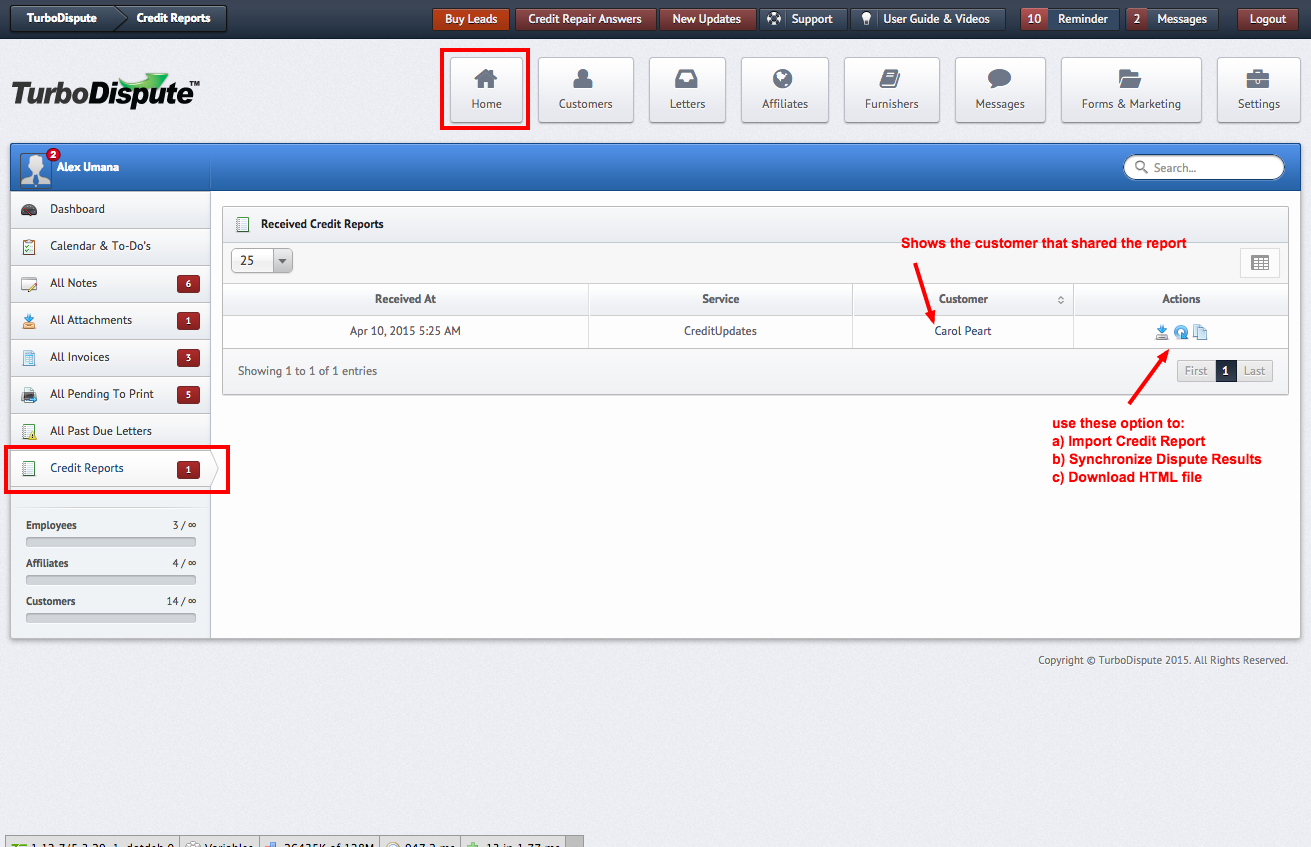 You can also choose to synchronize dispute results with an HTMl sorce code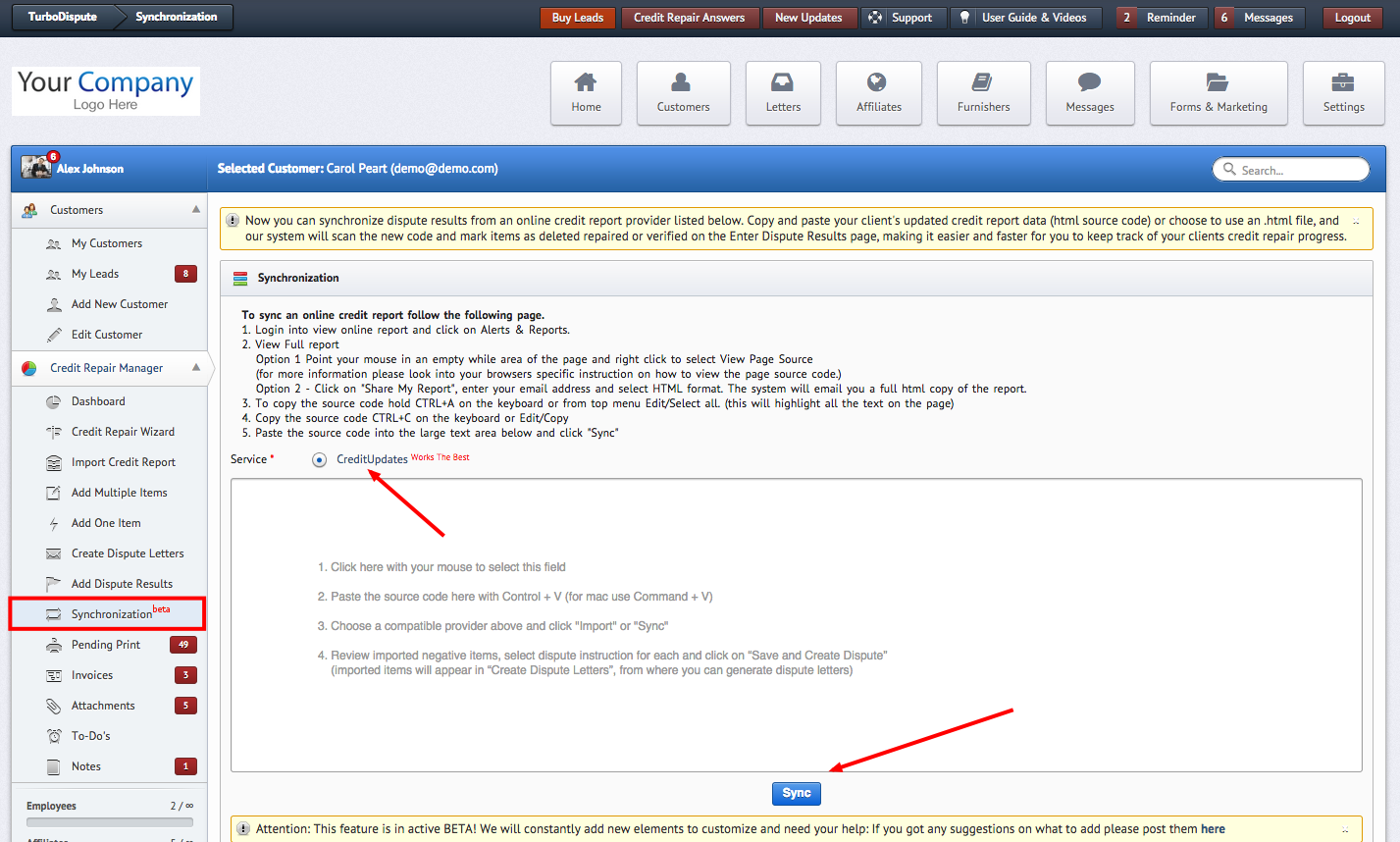 ---
Create Dispute Letters - top
Once you have imported your client's credit report data or entered the disputable items into the system you can create dispute letters:
Step 1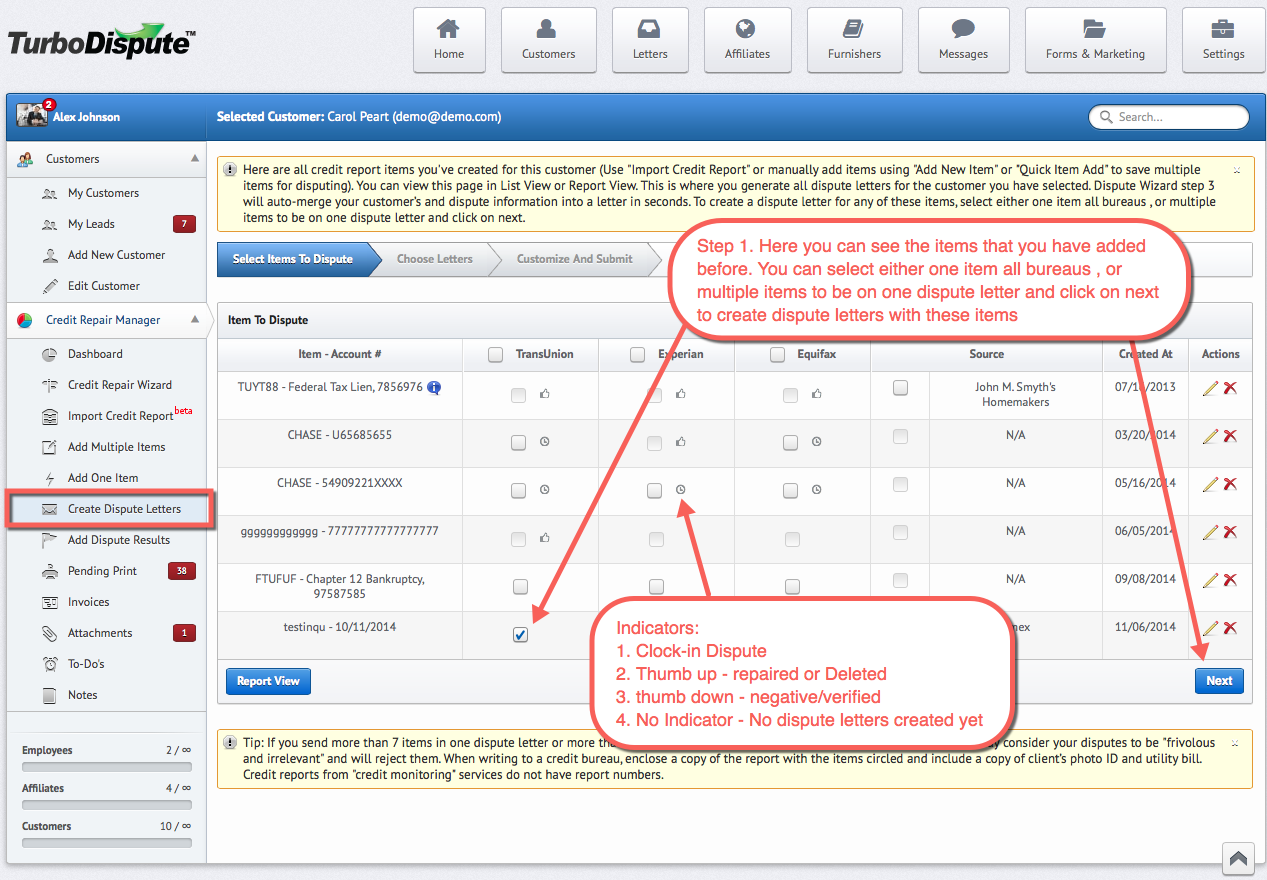 Step 2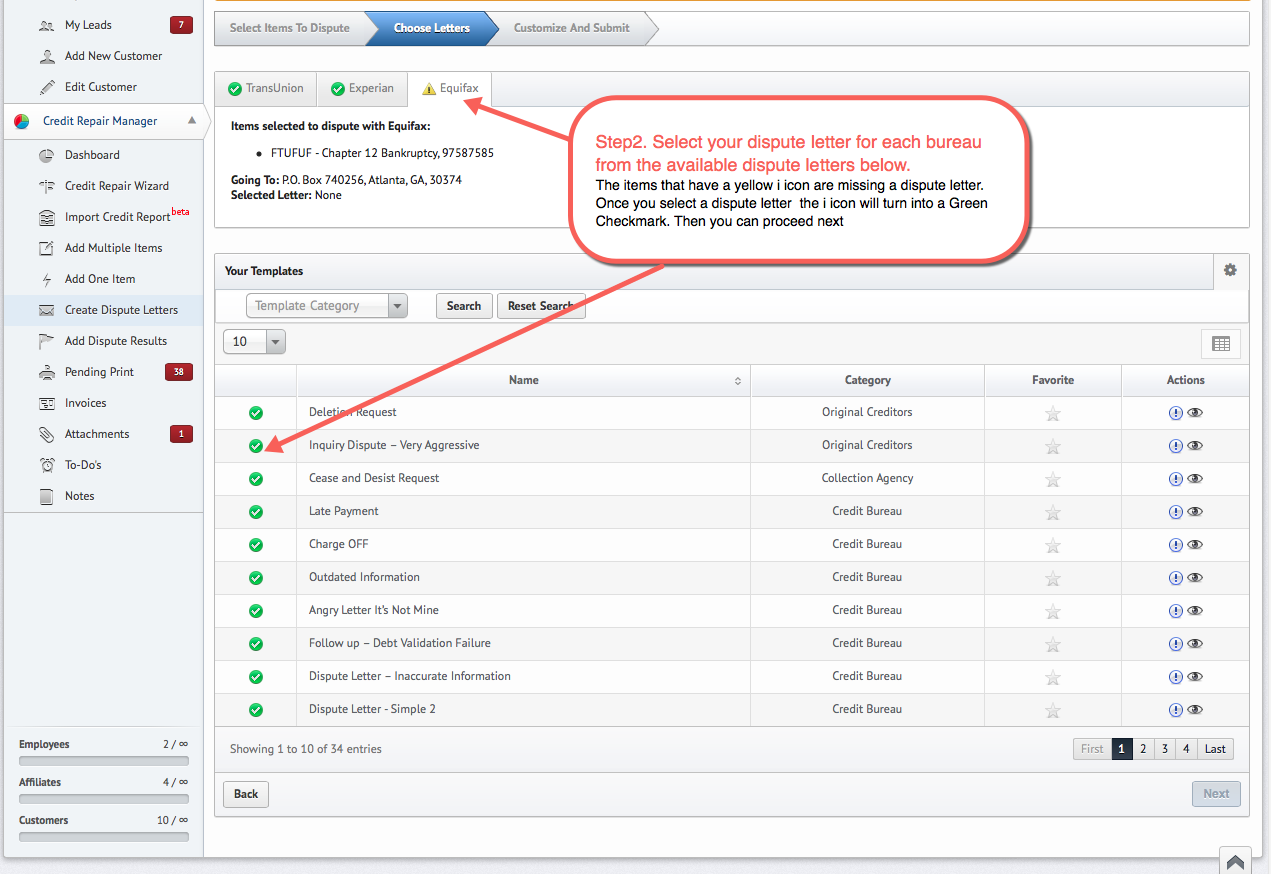 Step 3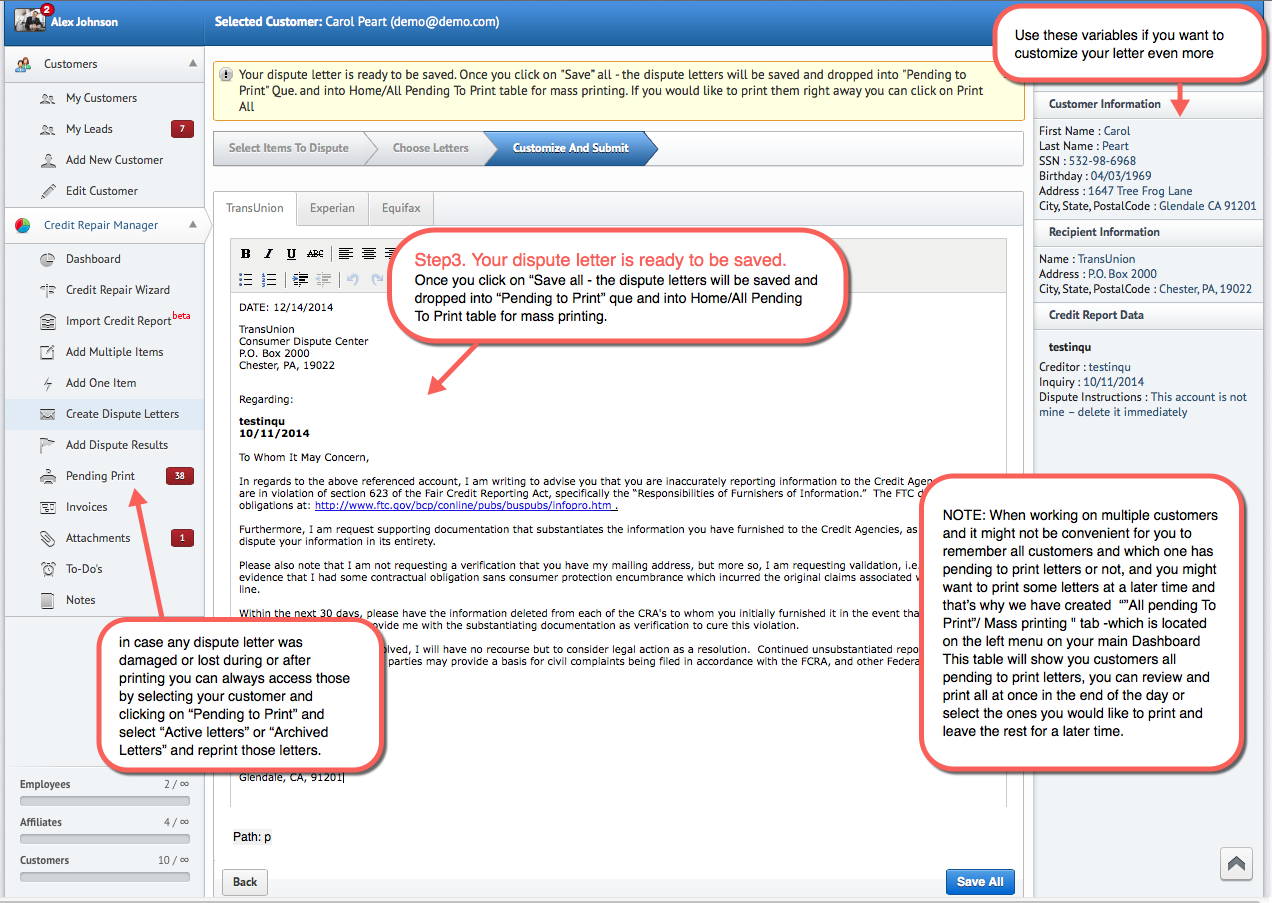 ---
Manually Add Negative Items - top
If you are not importing a credit report via import Credit Report, you will have o enter the disputable items manually.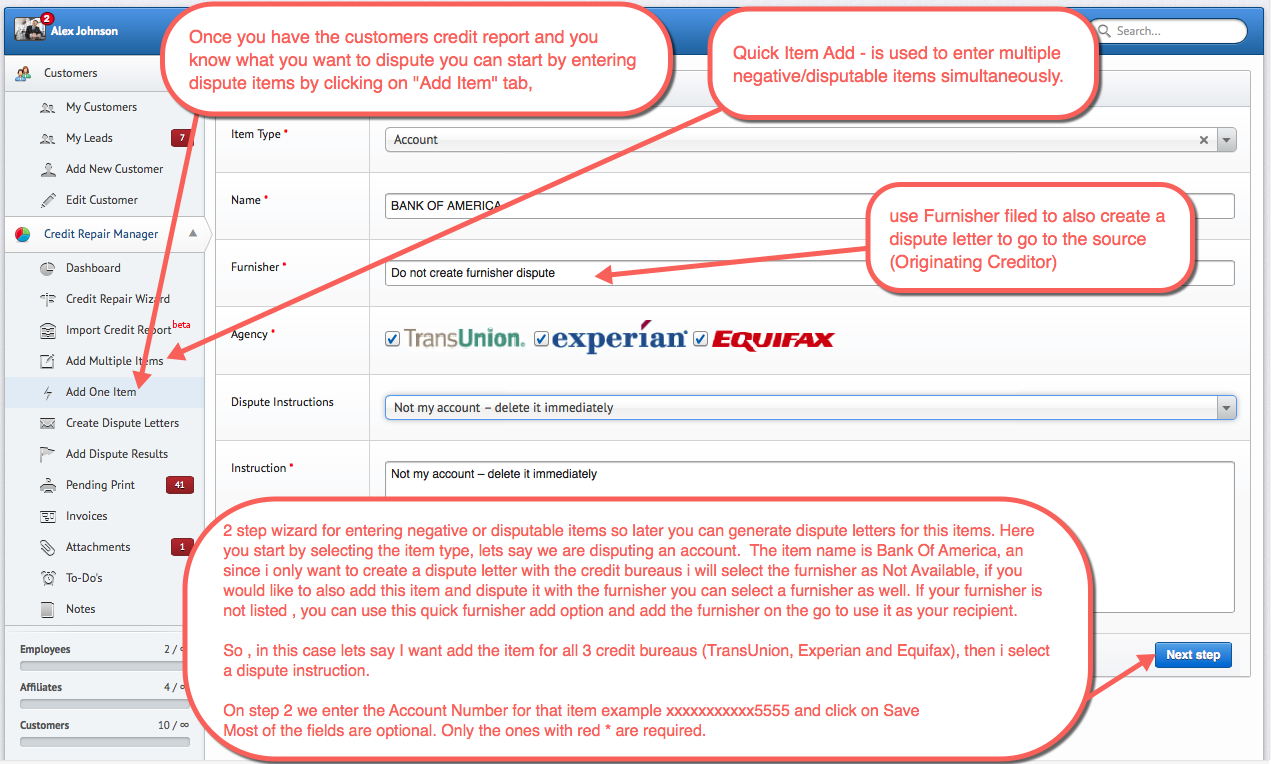 ---
Customer Dashboard - top
Once the dispute letter or letters are printed, those items get a status of "In Dispute," and are kept under Dispute Results and also under Active Letters and Archived Letters. You can also see a snapshot of all the activity in easy to understand charts and grapes by clicking on "Dashboard"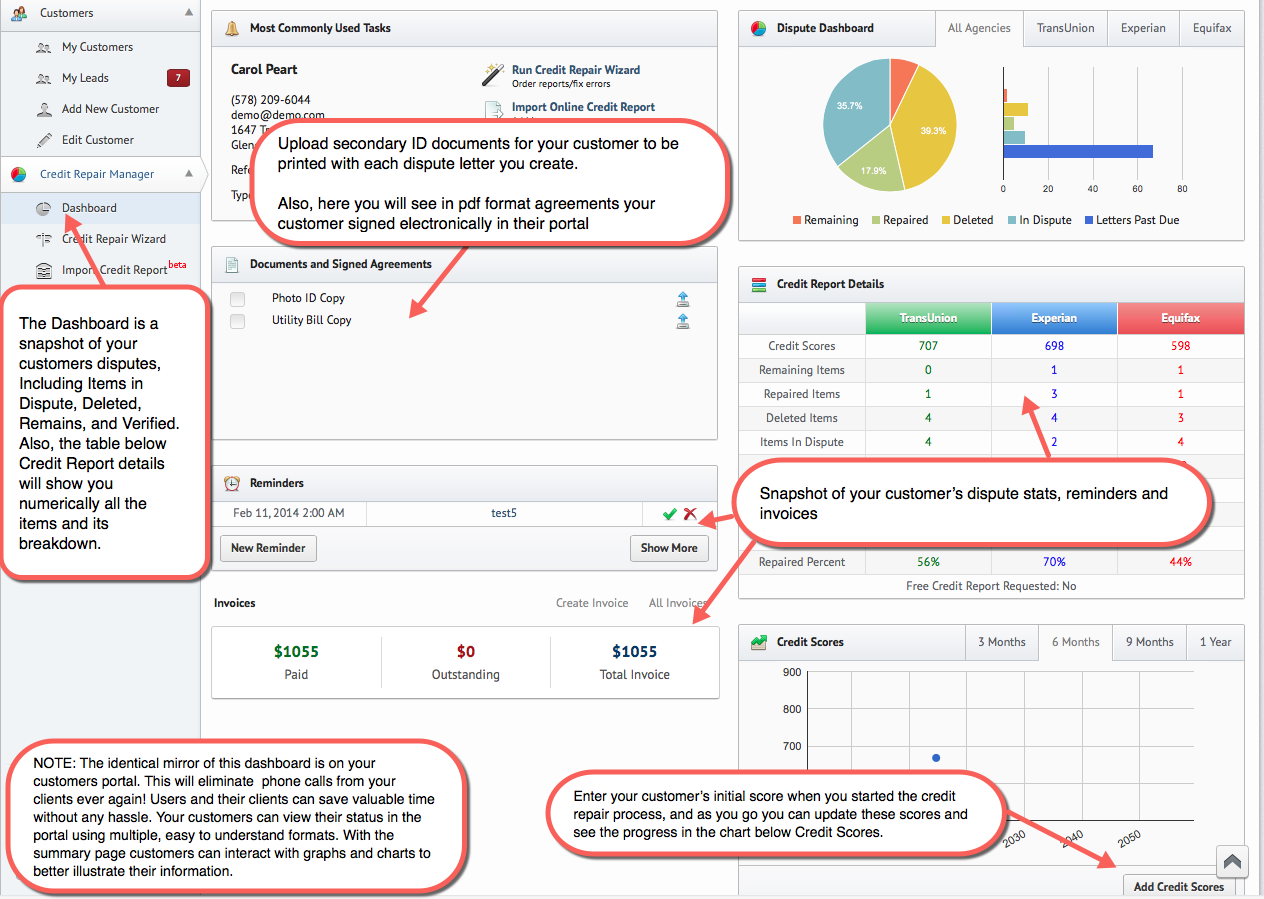 ---
Enter Dispute Results top
How to enter dispute results or create follow up dispute letters.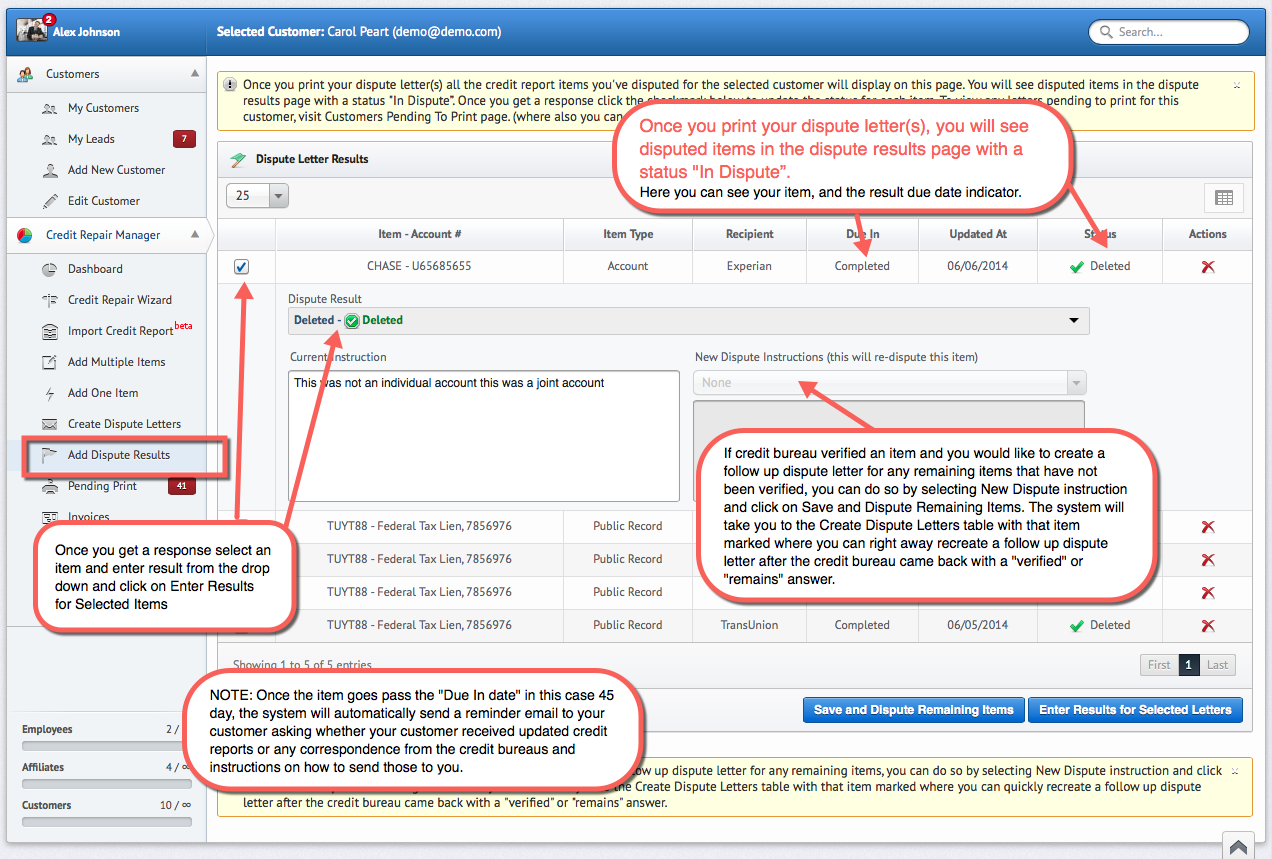 Notice: Credit scores also can be imported via import Credit Report feature.
---
Create Invoices top
You can create professional itemized invoices and email or print them.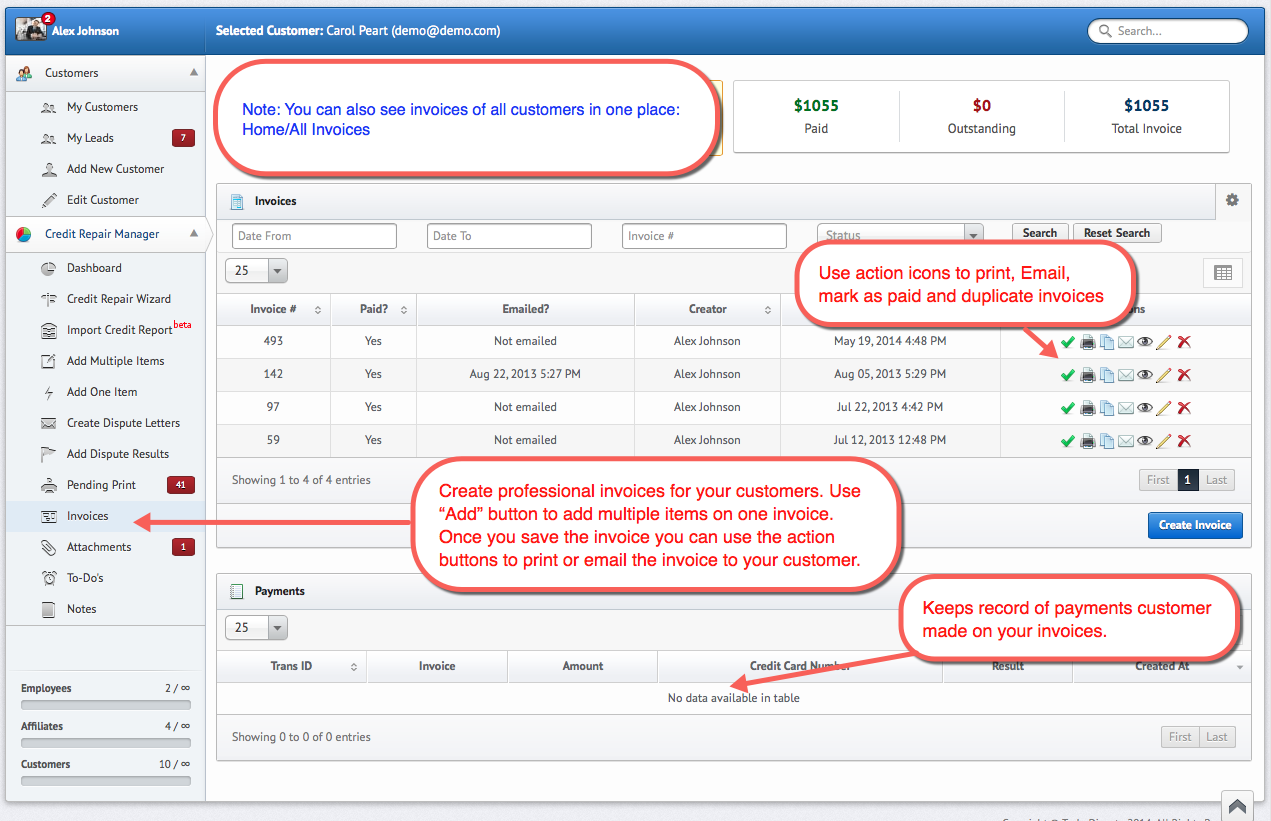 ---
Upload and Manage Attachments top
Your clients can upload files for you via Customer Web Portal. You can upload files as well , and mark them Private. When you mark attachments private only you and your staff will see those files. Your customers will not see those attachments in their portal.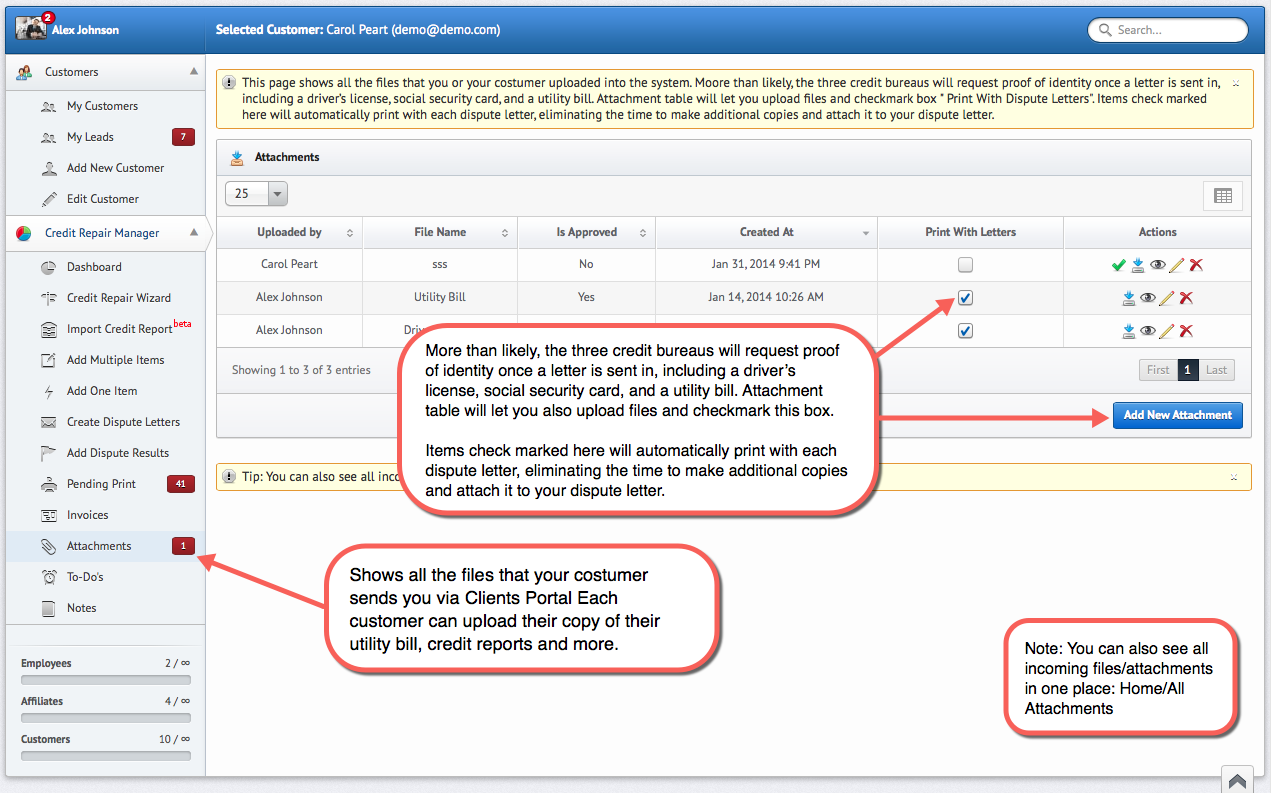 ---
Manage Customer's Email Notifications top
The system sends out automated emails. To stop these emails you can select an customer, click on Edit and check the box Email Opt Out to stop these emails.


---
Settings - top
Here you can manage your settings, company profile, subscription, software reference data, agreements, customer portals logo and content, customer emails, users and user role permissions.
---
Setup Company Details and Logo - top
How to setup your company information, logo and more.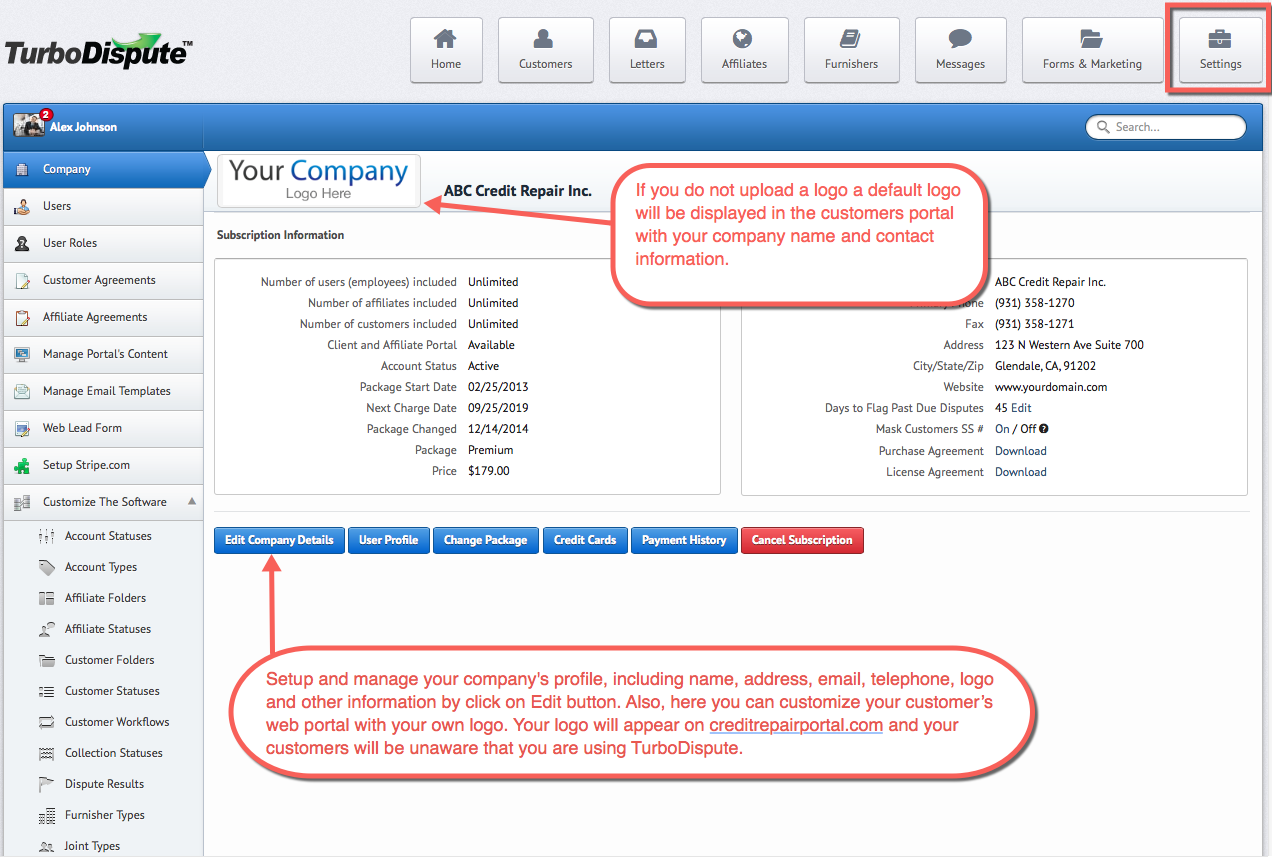 ---
Add Users - top
How to add additional users to your system.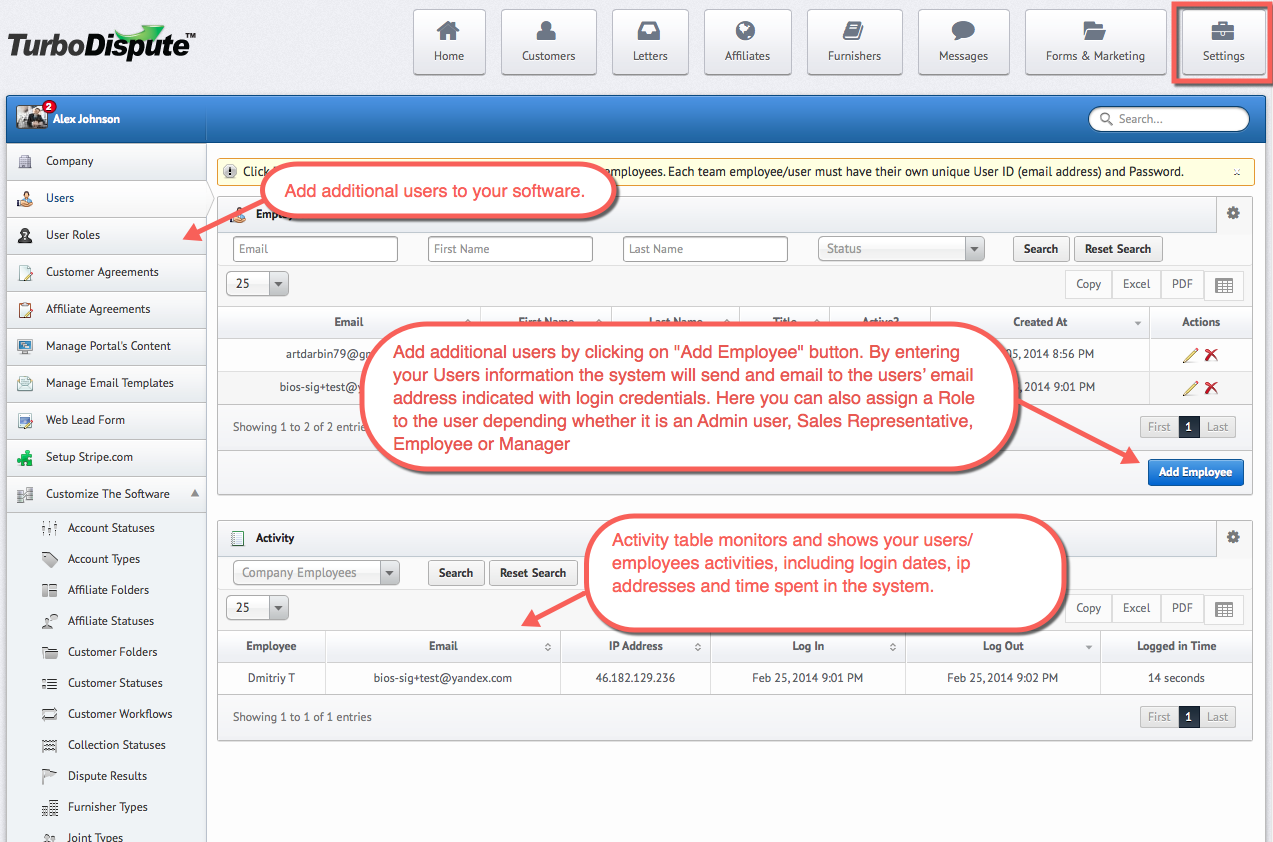 ---
Manage User Roles - top
User roles/permissions can be controlled here. You can keep confidential files protected by managing the roles of each member of your company. TurboDispute allows you to limit the permissions of your staff according to the tools and sections required to perform their job. This type of role-based security will allow you to fully and securely manage a multiuser business environment.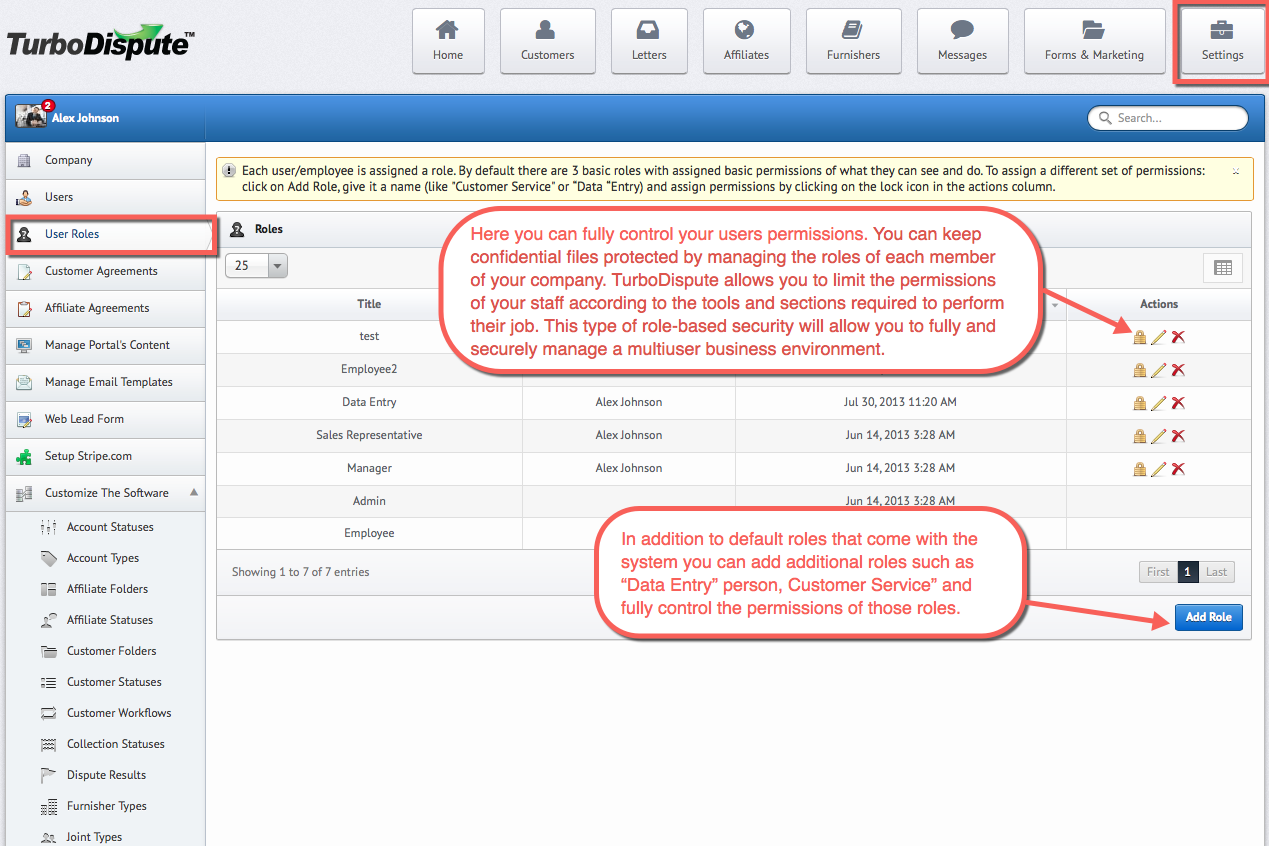 Notice: if
---
Upload Agreements - top
Here you can copy and paste and manage your credit repair contracts for your customers. Copy and paste your existing contracts, CROA disclosure, power of attorney and any other necessary disclosures into this section. Your customers will be presented with your agreements and will be able to electronically sign the agreement through the portal when they log in for the first time. (See and example here). Agreement signature feature comes with an advanced virtual drawing pad where your customers can print their name and sign your agreement with their real signature. Signed agreements for each customer will appear in downloadable PDF format in your customer's Detail page under "Agreements" section.

Step 1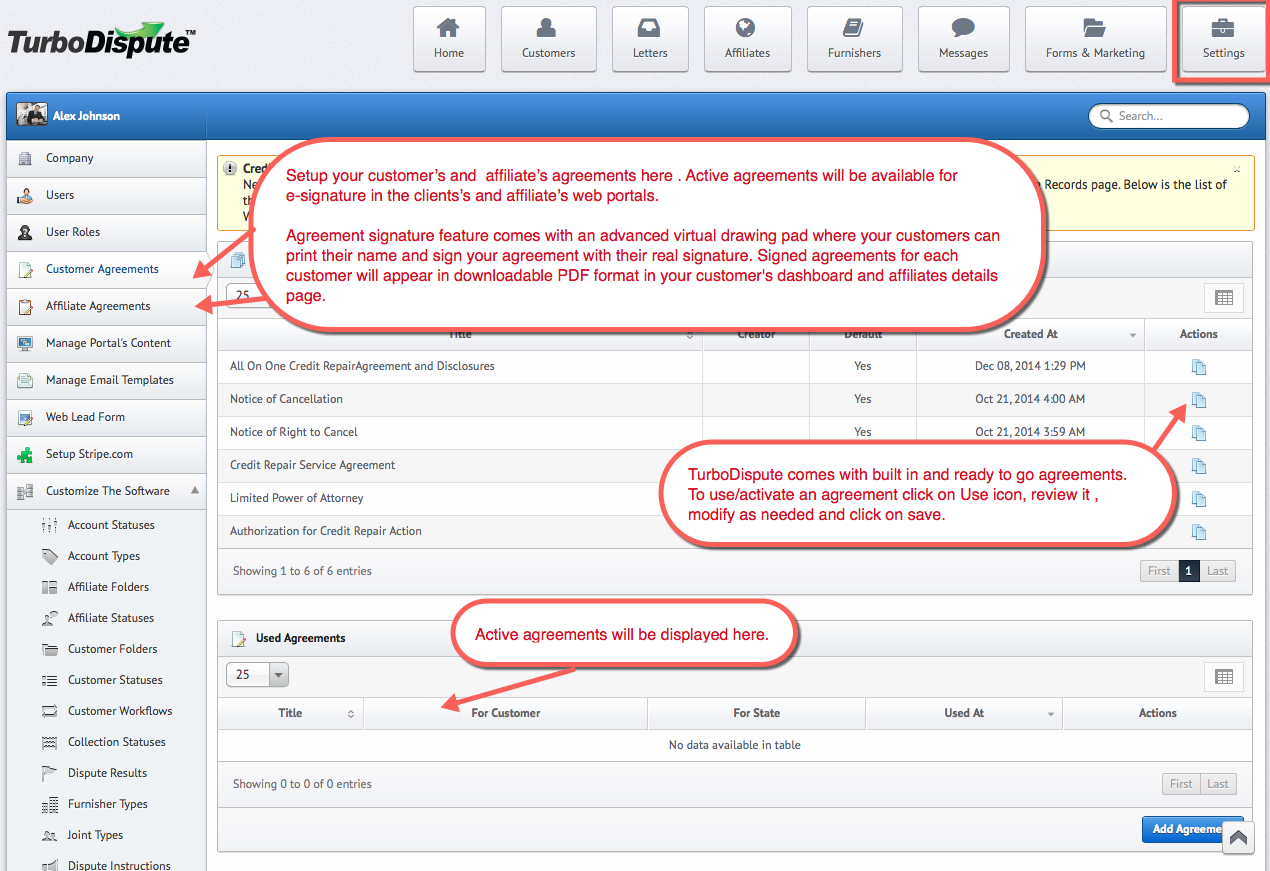 Step 2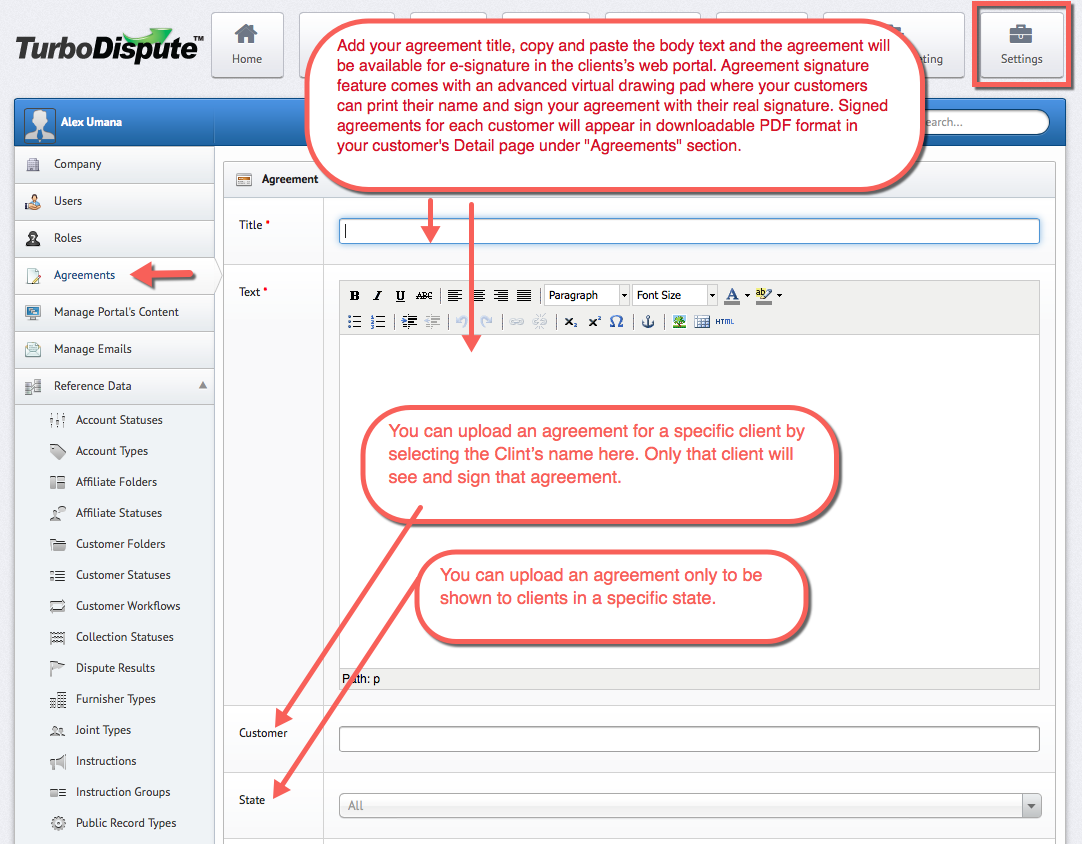 ---
Manage System Emails - top
How to manage system email content.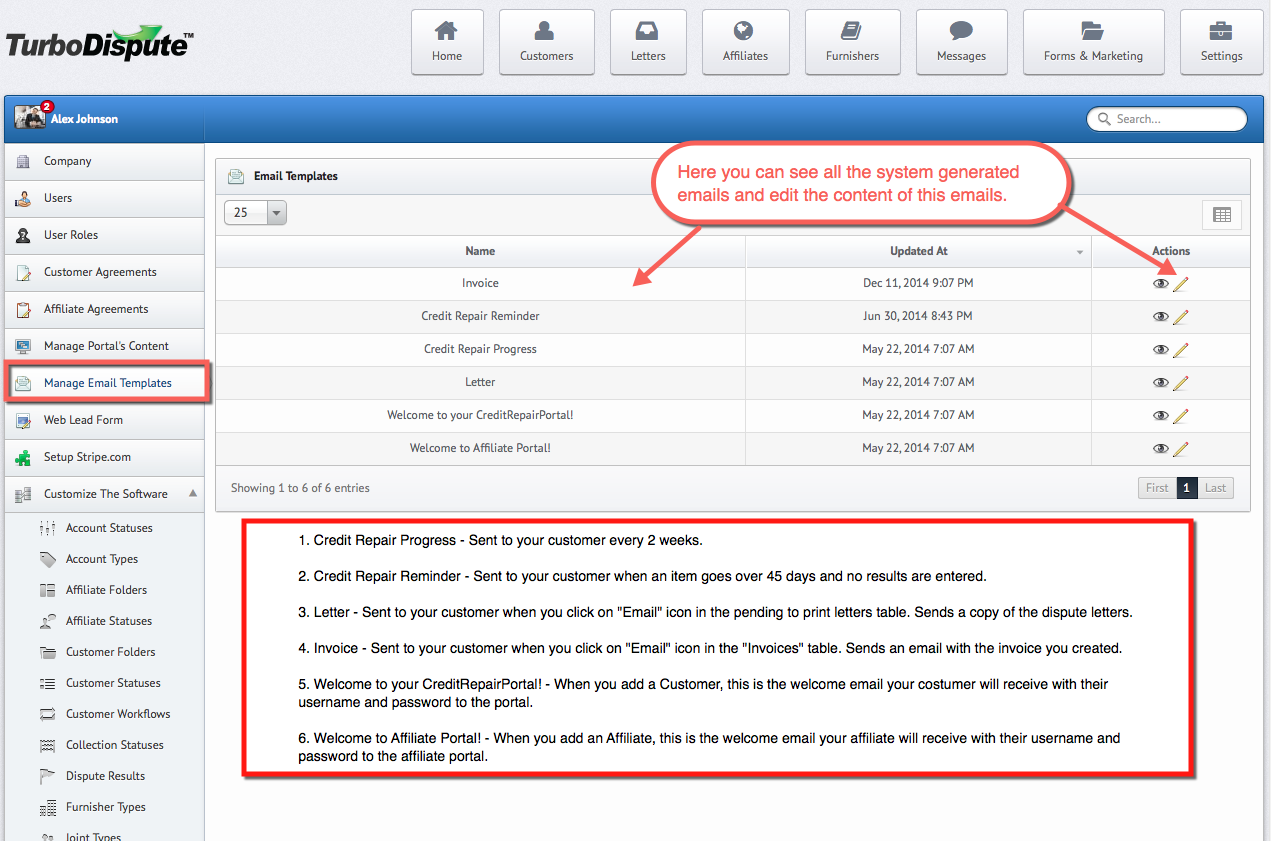 ---
Manage Portals Text Content - top
You can to add, edit and manage your customers web portal content. Here you can upload and manage educational topics and content for your customers. This content will appear under "Education" tab. (See and example here)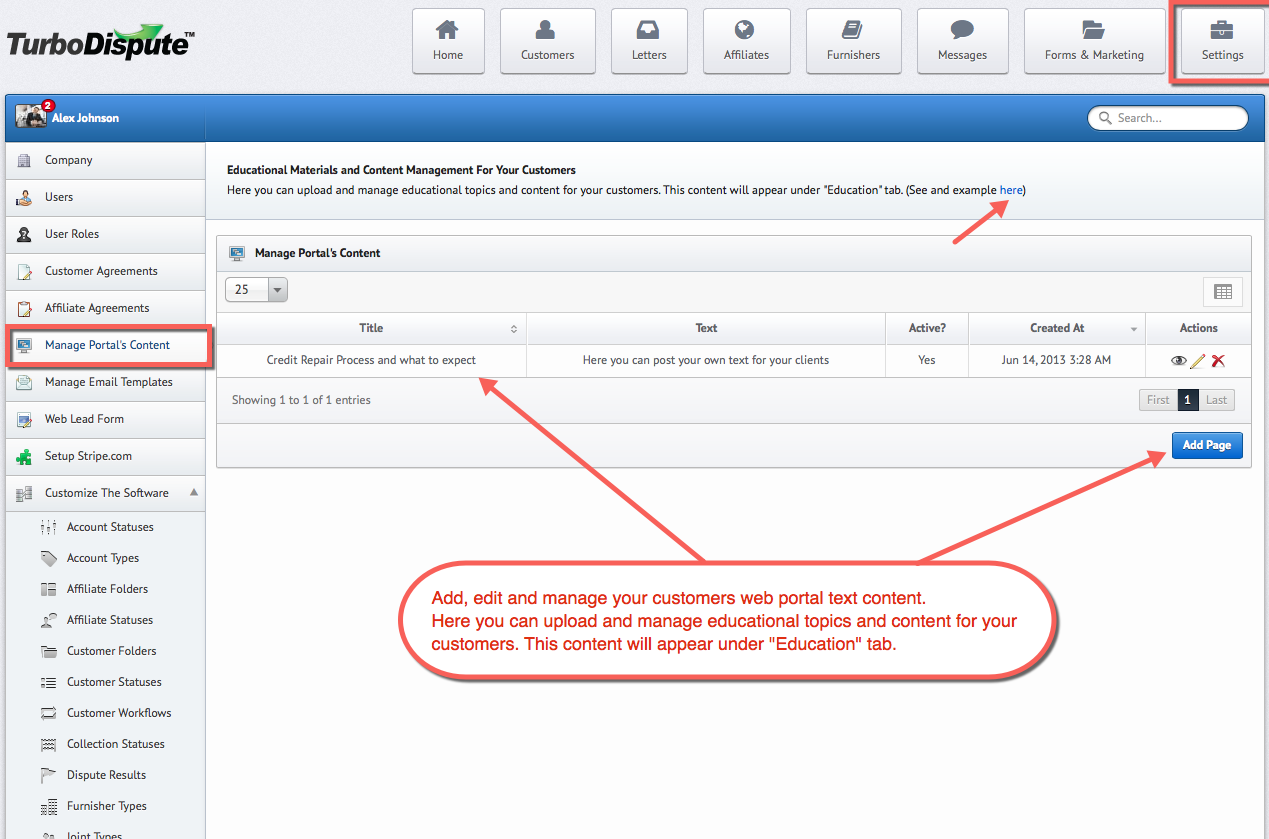 ---
---
Capture Online Leads (Web Lead Form) top
Use this feature to collect your own website leads and import them automatically into TurboDispute
Step 1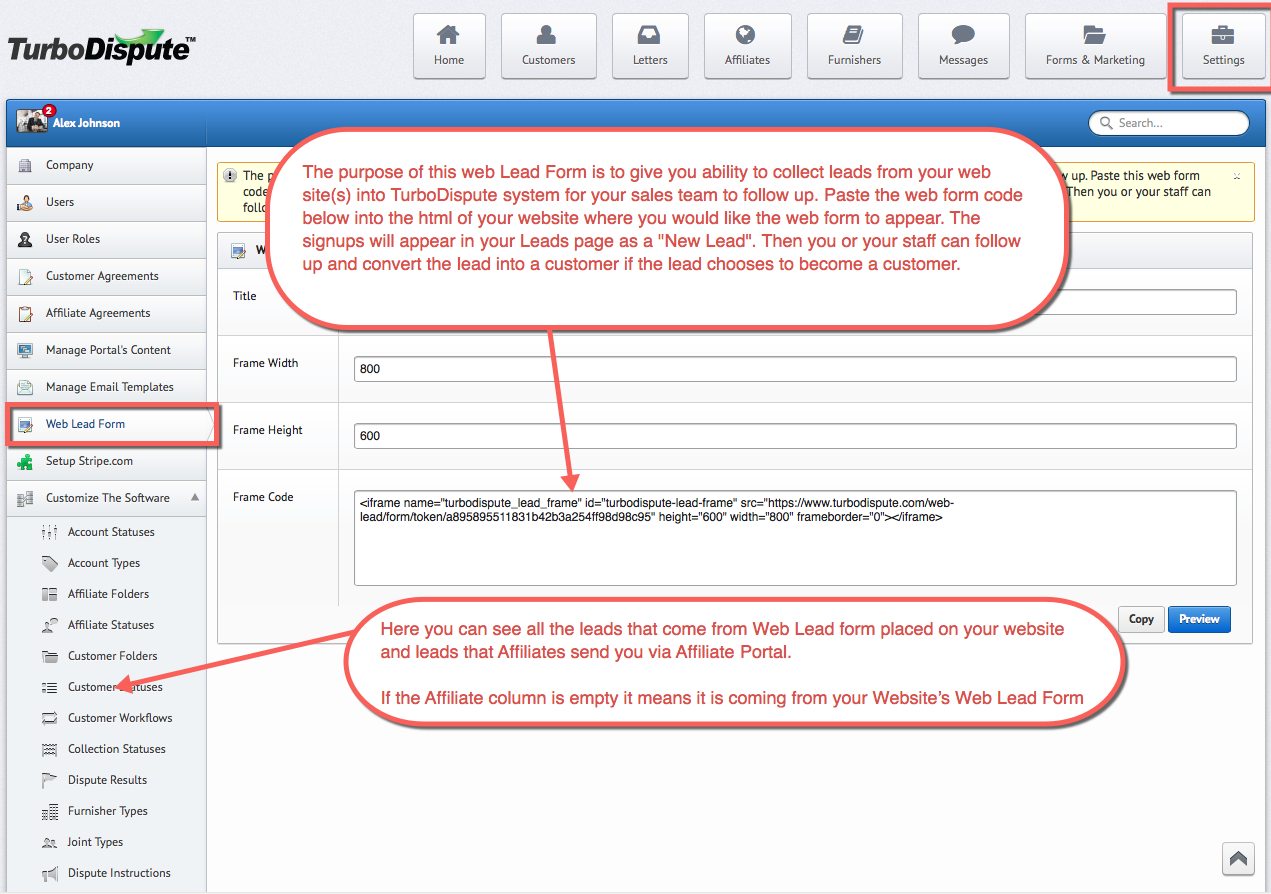 Step 2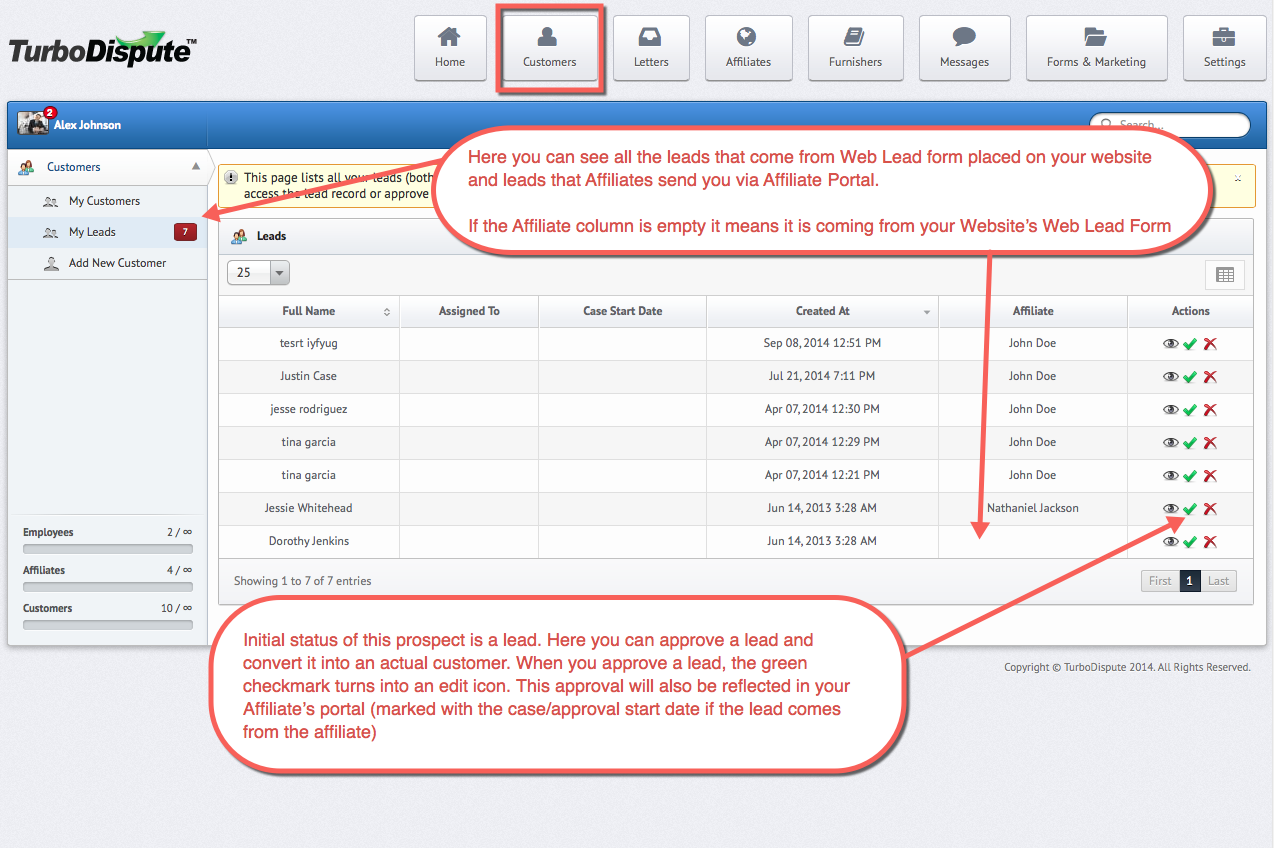 ---
---
Accept Credit Card Payments For Your Services top
Setup Stripe.com in TurboDispute and accept credit card payments paid directly from your invoices.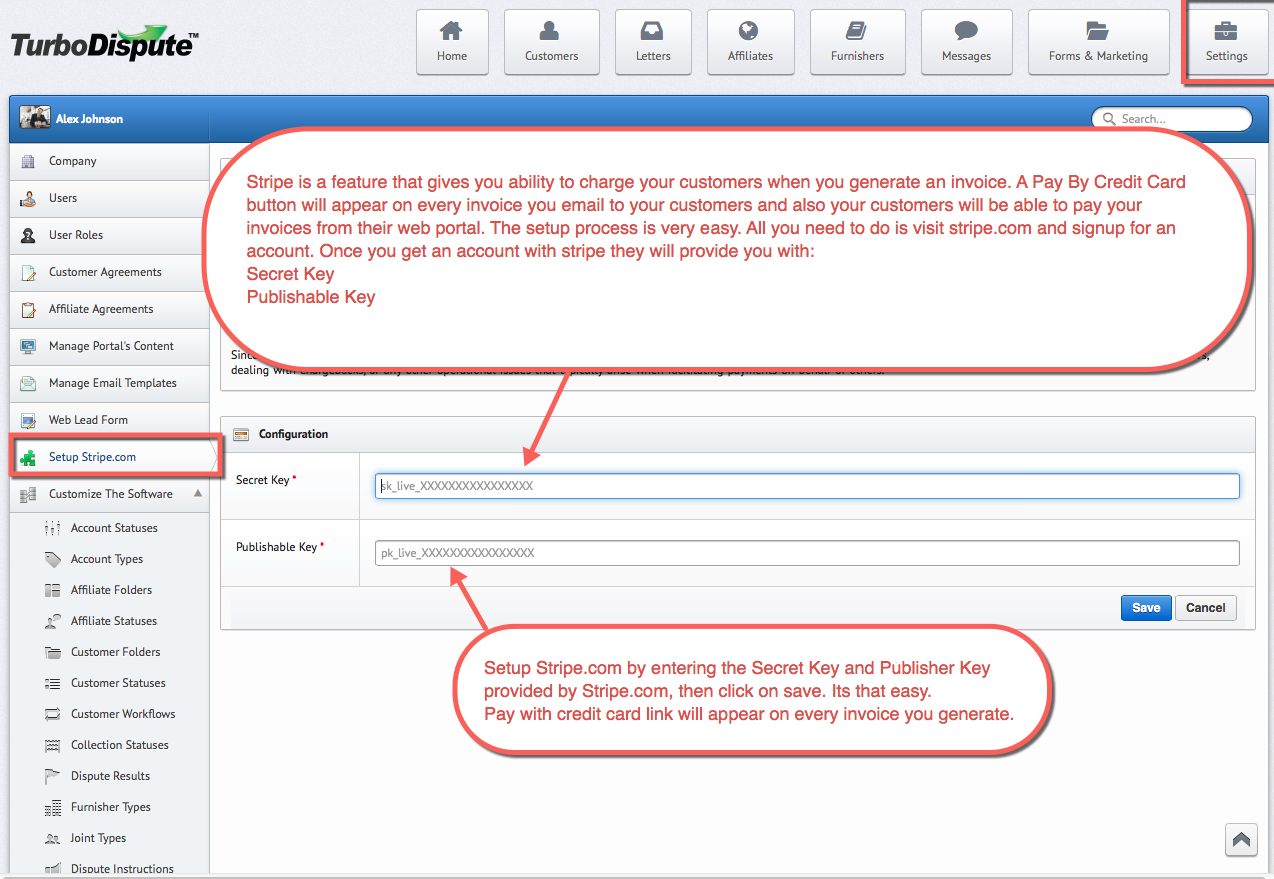 ---
Manage Your Dispute Letters - top
The Letters section of the software allows you to manage your dispute letter templates and categories.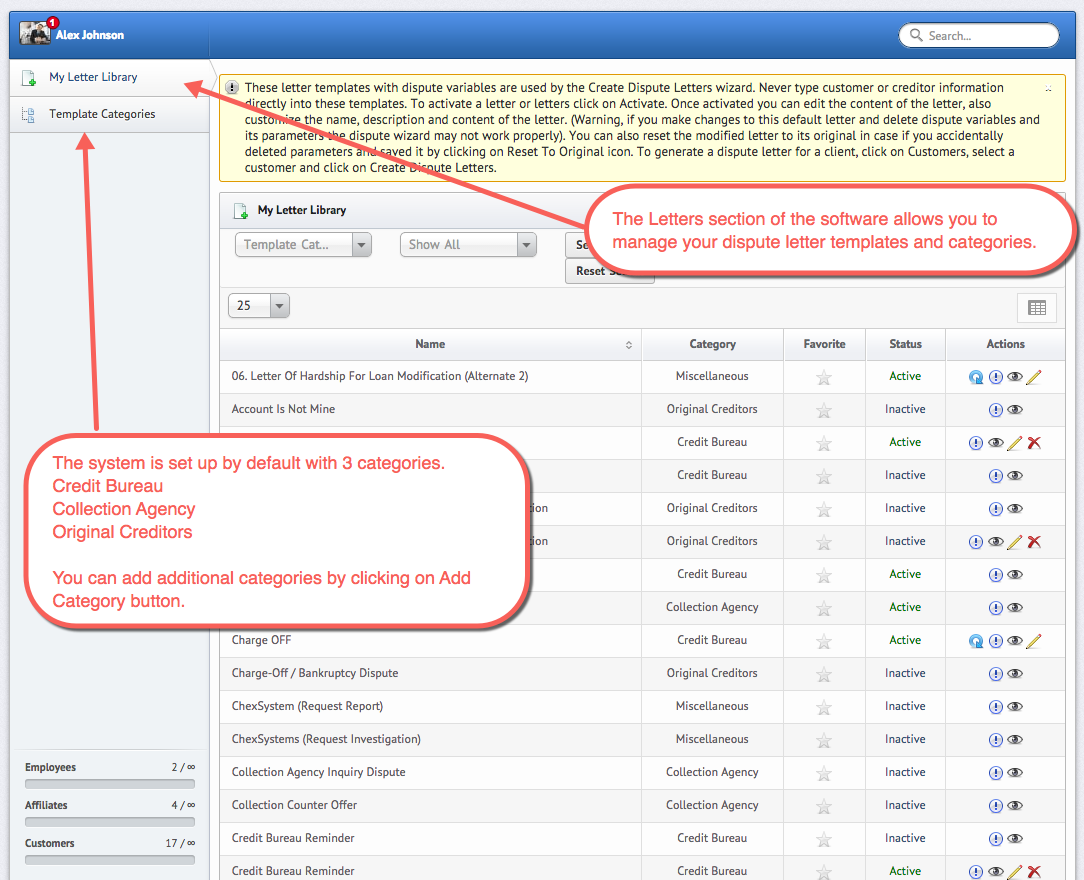 ---
View Available Dispute Letters and Add Letters To Be Used In your Create Dispute Letters Wizard- top
How to add dispute letters that you like to be used when creating disputes.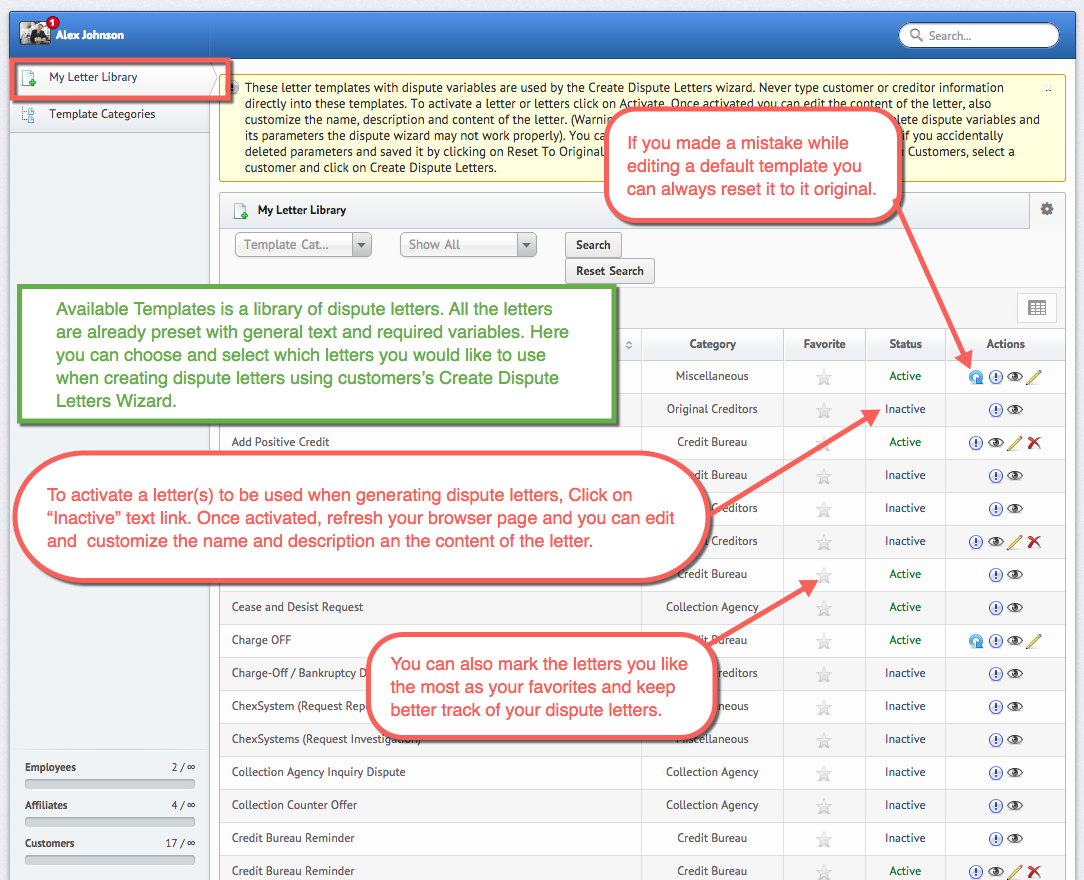 ---
Create/Add your own dispute letters - top
You can add your own dispute letters into the system:

Step 1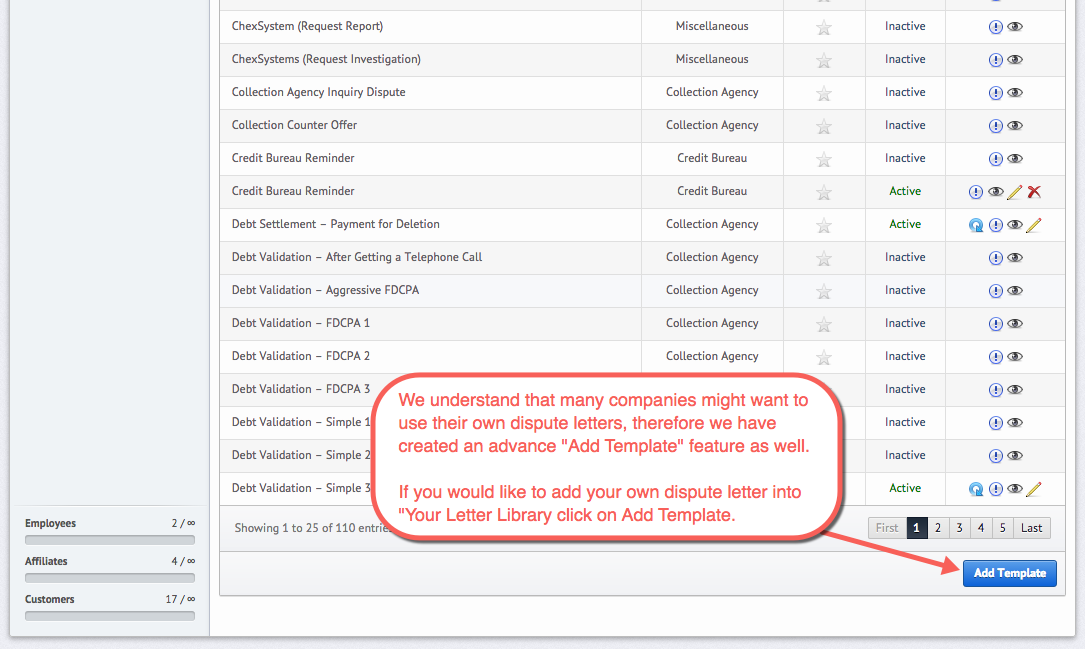 Step 2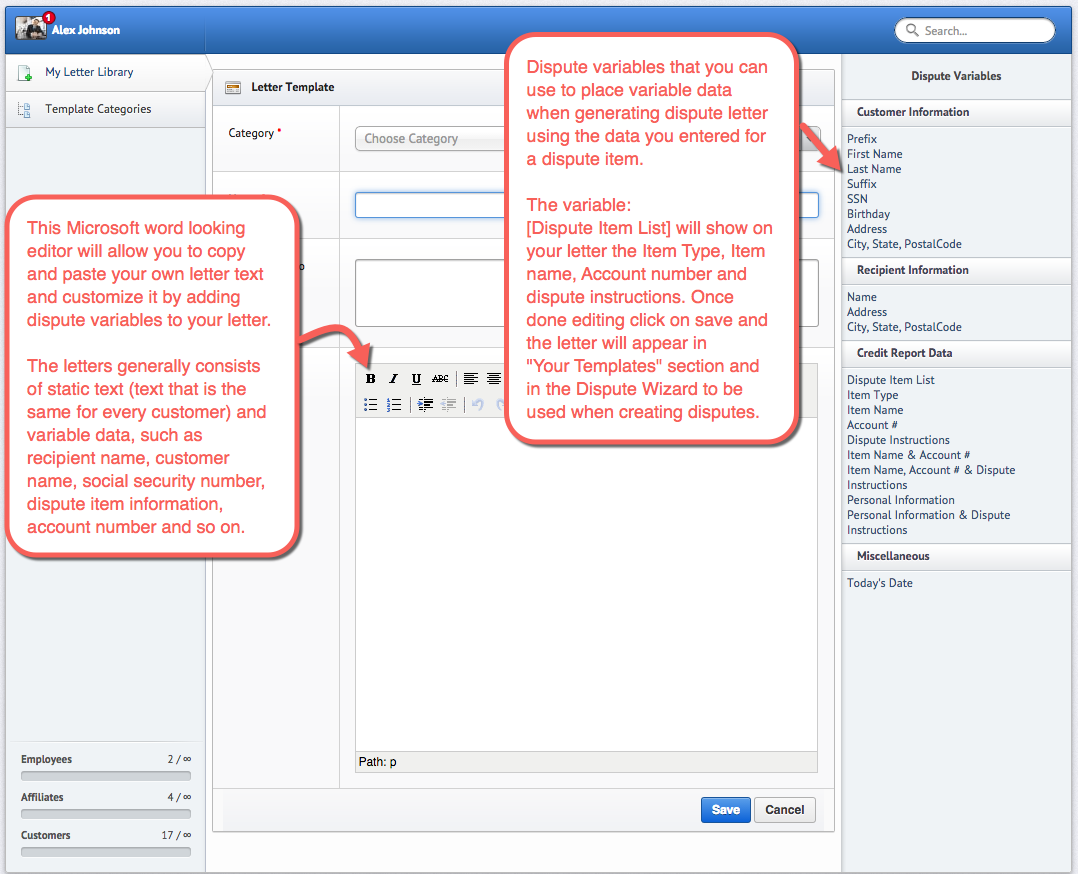 ---
Manage Affiliates and Referrals - top
The "Affiliates" section of the software gives you an ability to add and manage affiliates (companies or individuals that will be referring you customers. To add an affiliate click on Add Affiliate button and fill out the affiliate form. Once you enter the Affiliate's email address the system will automatically send a welcome email to your affiliate with his or her login credentials and a link to the Affiliate Portal where the affiliate can start sending you clients.
Once the Affiliate send you a potential client, the status of the client is a lead. Here you can approve a lead and convert it into an actual customer.
---
Add New Customers - top


---
View and Manage Referral Customers and leads - top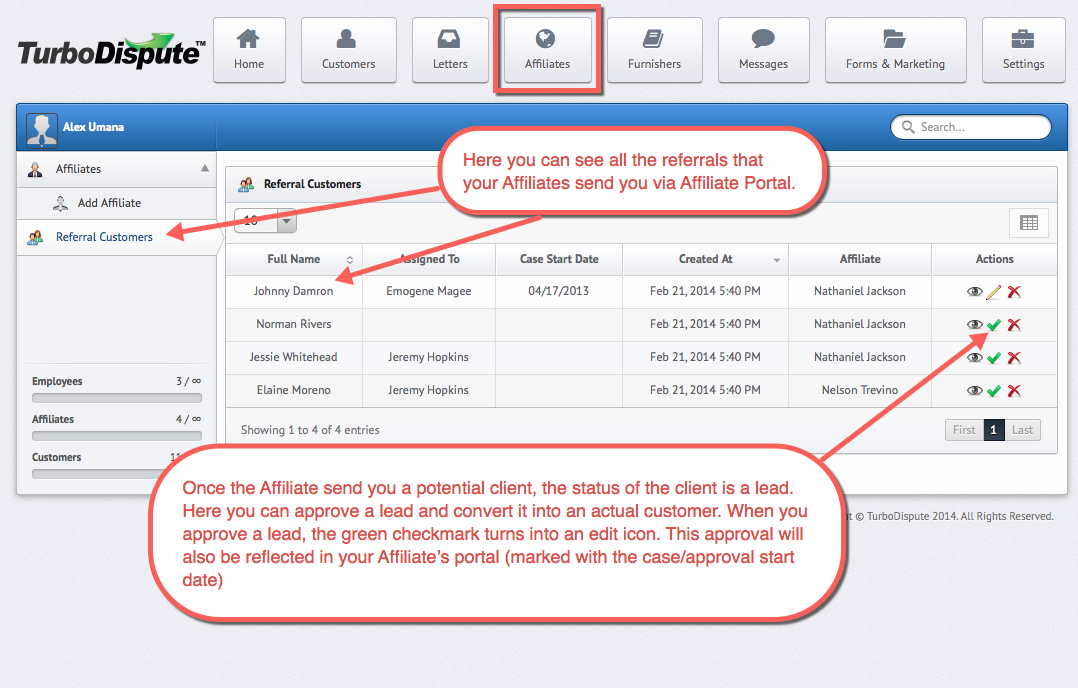 ---
Customer Forms & Marketing - top
Forms & Marketing is a collection of client agreement samples, client forms and marketing materials for your business including business plan, credit and debt presentations, phone scripts and much more. Since each state has its now laws and regulations, the client agreement samples, client forms might be applicable or be different for different states. We recommend you consult a lawyer if you want legal advice applicable to your situation and your business.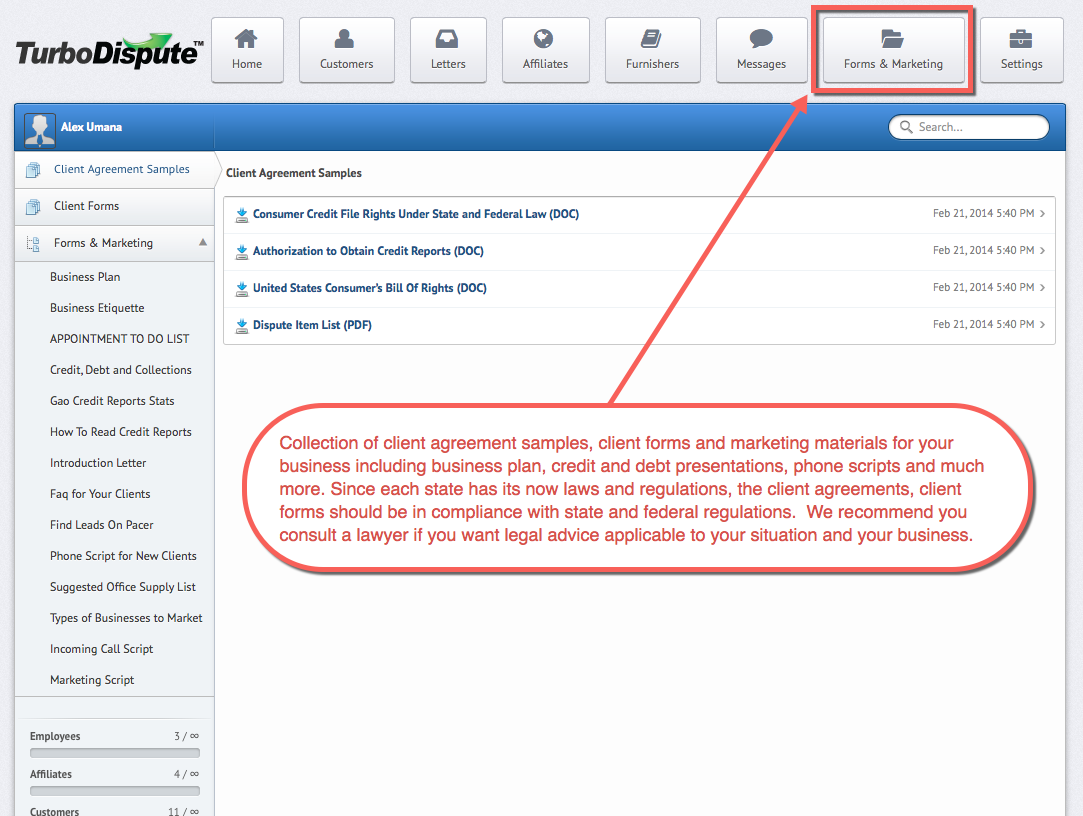 ---
Customer Messaging- top
Internal messaging system that you can use to communicate with your customers. The messages you send appear in your customer's web portal where they will be able to see those messages and reply.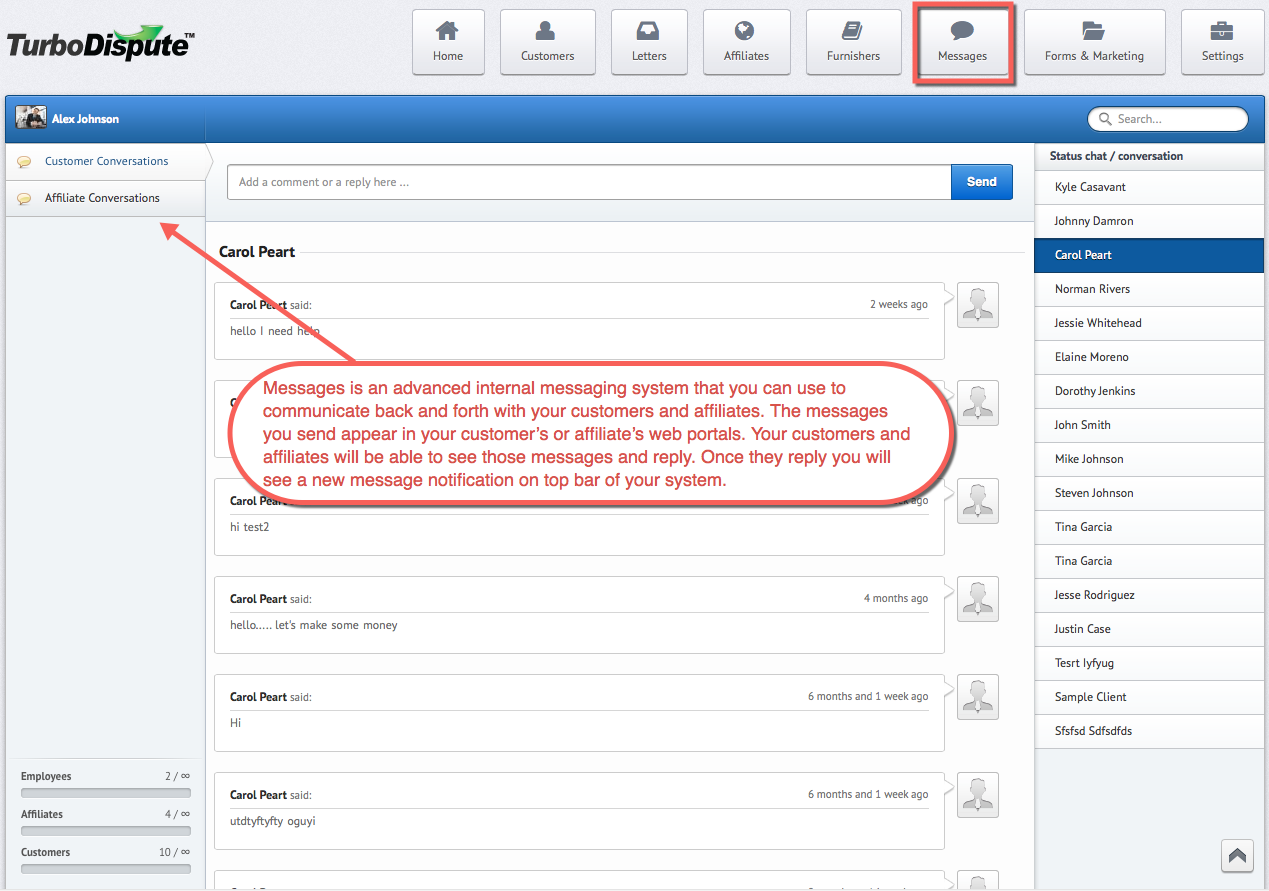 ---
Furnisher Directory - top
is a directory of almost all banks, collection agencies and financial institutions in the United States. We have uploaded a large database of over 3000 known financial companies and institutions, which can be selected when you create dispute letters. Also you can add your own furnishers by clicking on "Add Furnisher" button. When creating dispute letters you will be able to select and use these furnishers as the recipient of your dispute letter.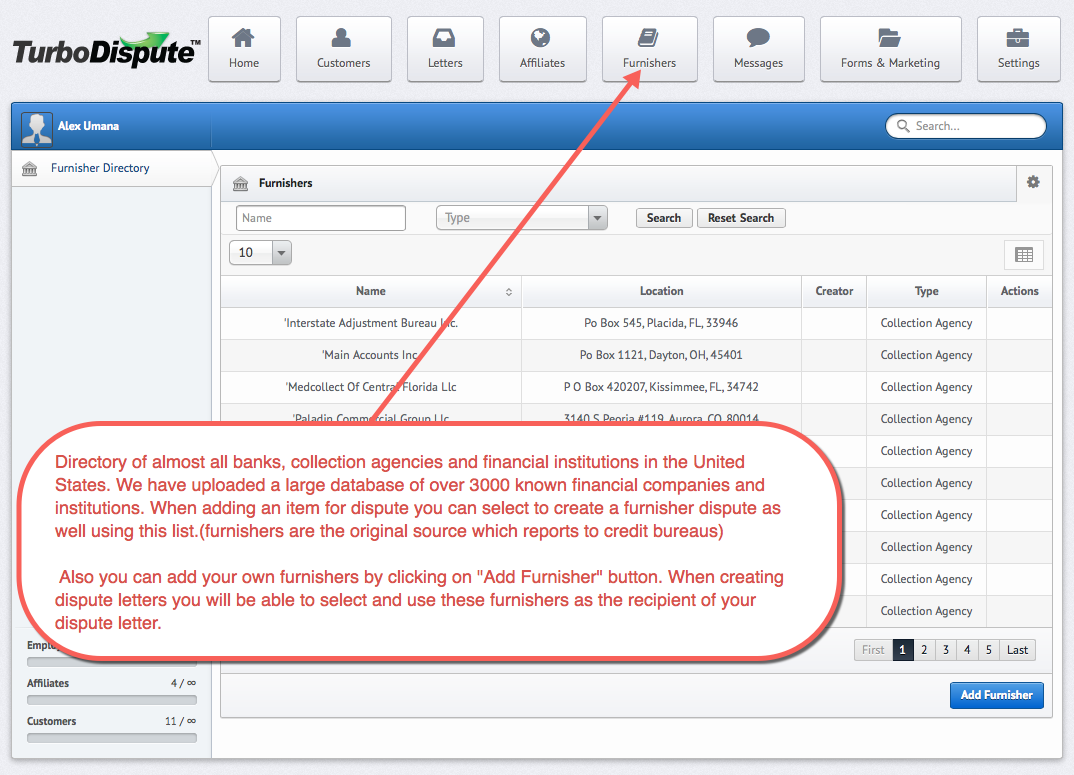 Notice: To add your own furnishers please click on Add Furnisher button and follow the steps and Save.,
---
Customer Web Portal - top
No matter what time of day or what time zone, your customers can log in and have real-time access to their agreements, attachments, credit repair status, dispute history, notes and more. Our branding will not appear on the site, allowing users to take full credit for their website.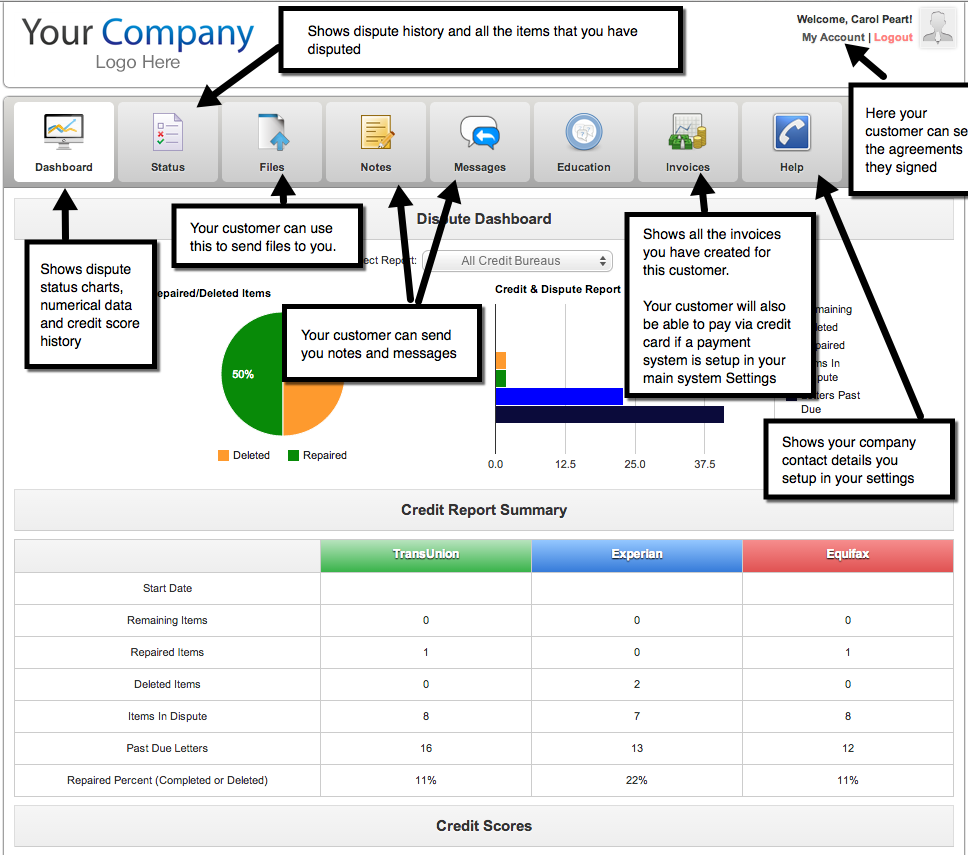 ---
Affiliate Web Portal - top
One of the most important tool a Credit Specialist can have is an Affiliate Portal. Your business is fueled by referrals and many mortgage brokers and realtors (your affiliates) require you to have a portal so they can refer clients to you and keep track of their referrals.

Sending Customers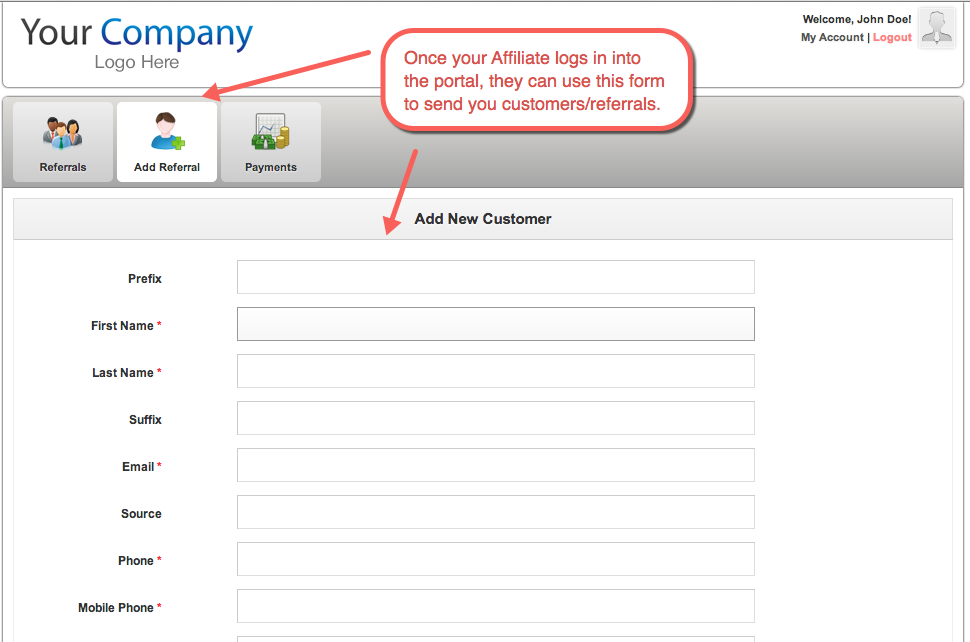 Tracking Progress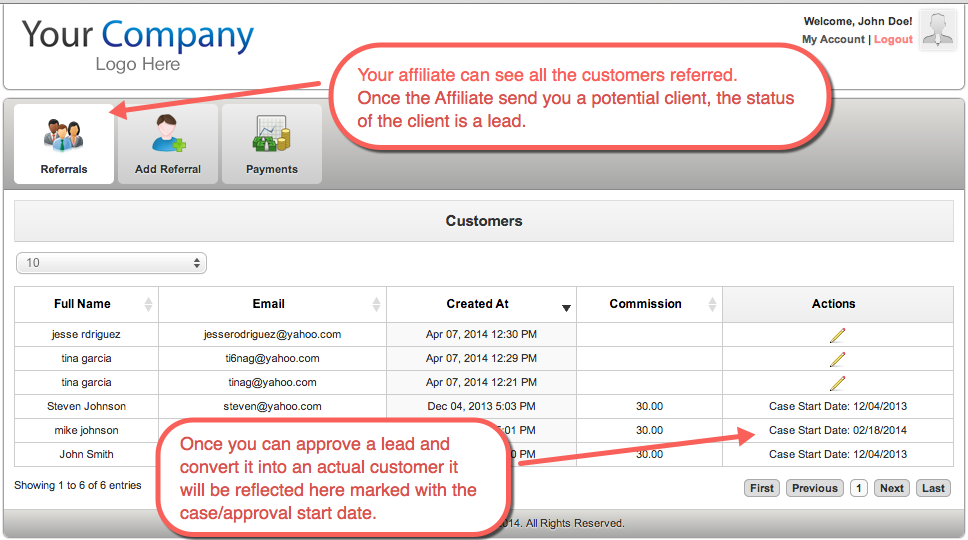 Managing Payments and Commissions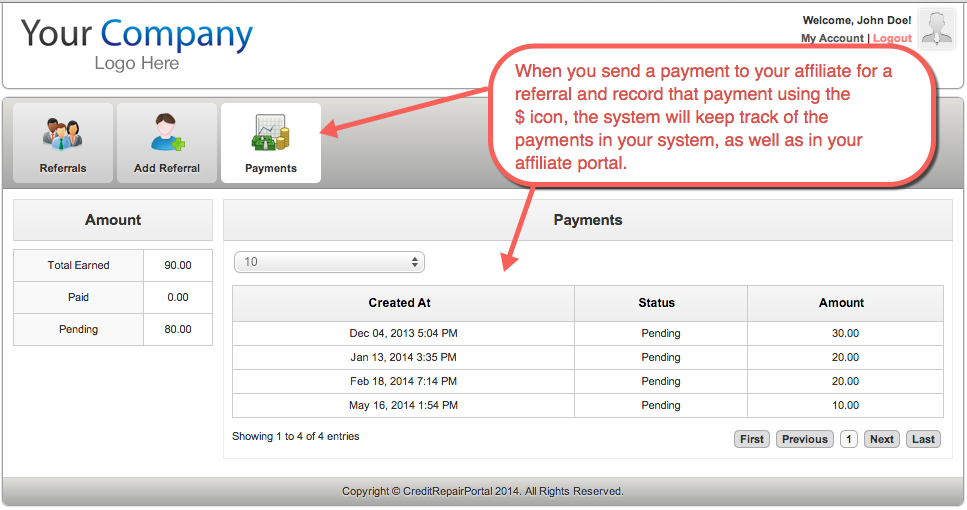 ---
Once again, thank you so much for using TurboDispute. We would be glad to help you if you have any questions relating to the software.
TurboDispute Team
---